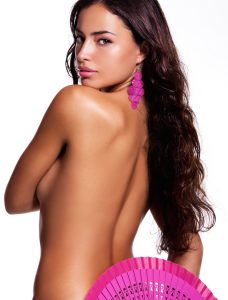 The amount of cardio or strength training that a person undertakes at the gym may not matter when it comes to getting rid of stubborn back fat.
This fat gets squeezed under the bra line for women and detracts from a shapely, toned shape when seen from behind.
Back liposuction provides significant noticeable improvements. But the procedure is easier on patients who have not lost large amounts of weight. Board certified plastic surgeon Dr. Suzanne Quardt (Dr. Q) provides liposuction for the back to patients in Palm Springs, Palm Desert, Rancho Mirage, and surrounding communities.
Types of Back Fat
Back fat can be subdivided into various important areas:
Infra-scapular fat (female flanks)

: Located right above the waist and below the shoulder blades. This unappealing fat bulges just below the bra strap.
Posterior axillary fat

: Located on the upper-outer back near the armpit.
Posterior waist fat

: Found above and posterior to the hips.
Lumbo-sacral fat pad

: Located in the midline of the lower back, right above the tailbone.
Buffalo Hump

: Located on the upper back near the neck.
Infra-scapular Back
Infra-scapular back is the region on the back right below the bra. The fat found in this area is a single subcutaneous layer which does not have a well-defined deeper fat compartment. Upon wearing a tight bra, this area tends to bulge out more conspicuously.
Certain women are genetically predisposed to collect fat in the infra-scapular back region. Increasing levels of obesity can cause the infra-scapular back to store so much fat that the subcutaneous tissue and skin can bunch-up developing parallel rolls of fat.
Tumescent liposuction plastic surgery with microcannulas can eliminate this unattractive localized "bra-fat" and offer dramatic improvements.
Procedure
The surgeon will make a series of tiny incisions in the back at targeted locations during a liposuction procedure. A thin metal tube, known as a cannula, is then inserted into the incision areas. Subsequently, the surgeon will gently suction the fat out of the body through the cannula.
Sometimes UV light or vibration may be used to heat up and melt fat. This makes fat removal easier. In addition, heating up the fat may also enable skin tightening.
Patients usually undergo this procedure with only a local or regional anesthetic and remain awake during the surgery. The time taken for the procedure will be anywhere from one to two hours depending on the amount of fat removal required.
Post-Op Care
The post-op care following liposuction of the back only necessitates adequate coverage with super-absorbent pads. These pads are held in position with a suitable torso compression garment. Liposuction of the back does not warrant a high degree of external compression.
The torso's motion during respiration and other routine activities is enough to entirely expel the residual blood-tinged anesthetic solution from the treated sites overlying the rib cage.
Suitable Candidates
Ideal candidates for back liposuction should be in good overall health, and preferably not smoke. Liposuction to eliminate back fat is neither a weight-loss nor a skin tightening procedure.
Rather, it eliminates fat from specific body areas to create a more toned and sculpted body shape. Patients who have excess skin due to rapid weight-loss might want to consider a procedure for skin tightening either along with or instead of, a liposuction procedure.
Cosmetic surgeon Dr. Suzanne Quardt (Dr. Q) receives patients from Palm Springs, Palm Desert, Rancho Mirage, and nearby areas for liposuction for the back.

To learn more about the plastic surgery treatments and procedures performed by Dr. Suzanne Quardt (Dr. Q) please contact us at 760-324-2660. To learn more about Dr. Q's Medical Spa please visit drqmedicalspa.com
Dr. Q Medical Spa receives patients from Palm Springs, Palm Desert, Rancho Mirage, and other suburbs and towns in this part of California.