WHAT IS MELASMA?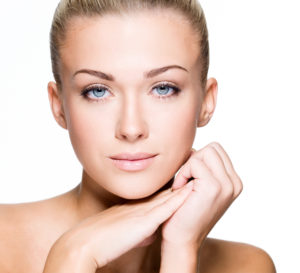 Melasma is one of the most common manifestations of hyperpigmentation (skin darkening) and typically presents as asymmetrical brown to gray-brown patches on the face and arms, particularly on the:
Cheeks
Chin
Above the upper lip
Forehead
Bridge of the nose
Neck
Forearms
Although the exact origin of melasma is unclear, the root cause is believed to be the overproduction of melanin, which is the pigment that gives human skin, hair, and eyes their color. People with darker skin tones are more prone to developing melasma because their skin has higher concentrations of active melanocytes (the cells responsible for producing melanin/skin pigment) than individuals with lighter skin. Women are also more likely than men to develop melasma because hormonal changes (i.e. pregnancy) can generate excess melanin production.
The medical term to describe when pregnant women develop melasma is "chloasma," but it is also colloquially referred to as "the mask of pregnancy." Hormone replacement medications, birth control pills, certain cosmetics/skincare products, and sun exposure can also trigger the development of melasma. Sun exposure is a key factor to consider because the ultraviolet (UV) light from the sun activates the melanocytes, causing melasma to occur. Even if a patient's melasma has faded, a small amount of sun exposure can prompt the return of this unwelcome skin condition.
TREATMENTS FOR MELASMA
Topical skin-lightening treatments such as hydroquinone, tretinoin, azelaic acid, kojic acid, and/or corticosteroids are often first lines of treatment for patients with melasma. However, these measures are not always effective, which is why at Dr. Q™ Plastic Surgery, located in Rancho Mirage, CA, Board-certified plastic surgeon Dr. Suzanne Quardt (Dr. Q™) offers a variety of advanced treatment options for patients who present with abnormal skin discolorations such as melasma. The following skin rejuvenation treatments are non-surgical, can be completed in less than one hour, and have proven to be helpful in eliminating melasma and achieving more even-toned skin:
IPL Photofacial: intense pulsed light (IPL) photofacials are ideally suited for patients who present with dyschromia, a skin condition marked by abnormal alterations of color (pigment) on the skin, such as hyperpigmentation (melasma/dark patches on the skin) and hypopigmentation (vitiligo/light patches on the skin)
Chemical Peel (chemexfoliation, derma peeling): involves the careful application of chemical solutions to the skin, in order to exfoliate and strip away the discolored, damaged outermost layers of the skin (epidermis), thereby revealing smoother, brighter skin with a more evenly balanced tone, texture, and color.
Medical Grade Skincare Products: Dr. Q™ Plastic Surgery offers a variety of powerful, pharmaceutical grade at-home skincare products from top industry leaders such as SkinMedica®, mybody®, and VisãoMD. These potent products are formulated with a proven balance of patented active ingredients to improve pigmentation irregularities such as melasma while toning, smoothing, and rejuvenating the skin
CONTACT DR. Q™ PLASTIC SURGERY
From the moment you walk through the doors of our pristine facility, you will experience the exceptional standards of patient care that Dr. Q™ and her staff work tirelessly to maintain. We treat our patients with the warmth, compassion and respect that they deserve, and are always available to address any of your concerns.
For additional information about any of our non-invasive treatments for melasma and other skin discoloration concerns, please contact Dr. Q™ Plastic Surgery today. We look forward to speaking with you, and to scheduling your initial consultation with Dr. Q™.