Breast Reduction for Men Palm Springs | Gynecomastia Palm Springs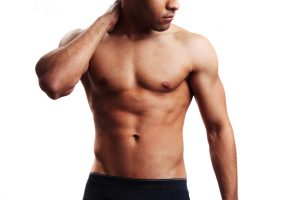 Male breast reduction, also called male breast surgery or reduction mammaplasty, reduces enlarged breasts in men (gynecomastia). Breast reduction both reduces breast size and flattens the chest contours so they are more traditionally masculine. Liposuction can be used to remove excess fatty tissue in the breasts. If gynecomastia has left you with stretched areolas (the skin around the nipples), breast reduction can also reduce and reposition them for a more satisfying appearance.
Male breast reduction addresses the common symptoms of gynecomastia, including:
Excess pockets of fat in the breasts
Excess glandular tissue in the breasts
A combination of too much fat and glandular tissue
Asymmetry of one breast to the other
The best candidates for male breast reduction are men are bothered by enlarged breasts and whose breast development is complete. However, adolescents with gynecomastia can undergo breast reduction surgery, with the caveat that they may need follow-up surgery in the coming years if their breasts continue to grow.
The Procedure
Male breast reduction requires anesthesia. Dr. Quardt will discuss what type of anesthesia is most appropriate for you.
If your gynecomastia involves significant amounts of fatty tissue in the breasts, Dr. Quardt will use liposuction to remove it. Liposuction can be performed alone or in conjunction with surgery to reduce breast size, depending on the composition of the excess tissue.
To take care of glandular tissue, excess skin, enlarged areolas or drooping nipples, Dr. Quardt performs excision surgery. She removes the extra tissue and repositions the rest to produce a tighter, more natural male contour.
You will have visible scars after male breast reduction. However, Dr. Quardt does her best to hide them as much as possible along the contours of the chest.
Your Consultation with Dr. Quardt
During your consultation, Dr. Quardt will talk with you about your expectations, whether you are a good candidate for male breast reduction, and what to expect during and after surgery, including potential side effects.
Contact Dr. Quardt to find out more about male breast reduction for gynecomastia.