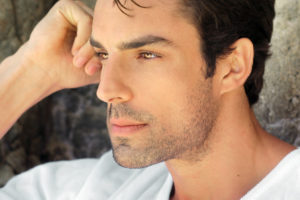 Hair loss can be an embarrassing problem, especially if you are young. It can affect your looks and have a negative impact on your confidence. Research shows that nearly 70% of men and 40% of women suffer from some form of hair loss.
At Palm Desert Plastic Surgery, we now offer an all-natural and extremely effective solution for hair loss in the form of ALMI (Autologous Lipocyte Micronized Injection) procedure, which involves injecting fat cells and platelets (extracted from your own body) into your scalp to promote hair growth.
Treating Hair Loss with ALMI
One of the main reasons for hair loss is that the stem cells in the scalp lose their ability to convert into progenitor cells, which play a key role in follicle stimulation and cycling.
ALMI acts by regenerating the dormant hair follicles in your scalp. It stimulates hair growth, promotes a robust hair growth cycle, and restores lost density and volume.
How Does ALMI Treatment Work?
First, a small amount of fat tissue is extracted from your abdomen or flank. The fat tissue is processed to separate the viable fat cells from the rest of the unwanted material. A small amount of blood is also drawn from your body in order to extract platelet-rich plasma.
Your scalp – particularly the areas where you have lost hair – is numbed with local anesthetic. The fat cells and the platelet-rich plasma are directly injected into the scalp using a small needle.
Once injected into your scalp, the fat cells and the platelets tend to reactivate dormant hair follicles and stimulate the growth of new hair follicles. You can see the results in the very next hair growth cycle after the treatment. With each growth cycle, you will be able to see a marked improvement in hair density and volume.
What Kind of Hair Problems Can ALMI Treat?
ALMI can treat a wide range of hair problems including receding hairlines, loss of hair density, loss of hair volume, hair thinning, and baldness.
Advantages of ALMI Hair Loss Treatment
ALMI is completely natural, since the regenerative cells to be injected into your scalp are harvested from your own body. So, there is no possibility of your body reacting adversely to the treatment.
The combination of stem cells derived from your fat tissue and platelets derived from your blood works extremely effectively in regenerating dormant hair follicles and promoting healthy hair growth.
ALMI is more effective in treating hair loss compared to over-the-counter remedies like Rogaine. It is also much cheaper than a transplant.
ALMI treatment has virtually no downtime, which means you can fit it into your regular schedule quite easily.
ALMI Hair Treatment at Dr. Q Plastic Surgery
If you are struggling with hair loss, Dr. Suzanna Quardt, who is a board certified plastic surgeon with years of experience in treating a wide range of skin and hair problems is here to help you.
Dr. Q is an authority in the field of cosmetic dermatology and her expert opinion is sought after by skin care experts from around the world. If you are in need of a safe and long-lasting solution to your hair loss problem, the ALMI treatment offered at Dr. Q Plastic Surgery is an excellent choice for you.