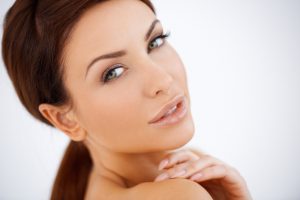 One of the ways to minimize the signs of aging is with injectable fillers and there are now over a dozen different options available. Revanesse® Versa™ is one of the newer injectables on the market and is becoming a popular choice for patients who want to minimize the appearance of lines and wrinkles.
Unlike some other formulations, Versa helps restore volume immediately — you can enjoy the results of a full correction as soon as you walk out of the office and there is significantly less swelling than other treatments.
What Can Revanesse Versa Treat?
For many people, moderate to deep lines from the base of the nose to the outer corners of the mouth give away their age.
Makeup can't cover up these lines and they will become deeper and more noticeable over time.
According to studies, Versa can help smooth out nasolabial folds (laugh lines) for up to 12 months1.
This helps to create a refreshed and rejuvenated appearance. And many patients enjoy progressive results months after treatment as the lines continue to fade and become less pronounced.
About Revanesse Versa
Versa is a hyaluronic acid dermal filler and is designed to restore volume in the facial tissues. It's made with a proprietary manufacturing process that creates very uniform particles. This helps create a very natural and smooth result.
Hyaluronic acid is a naturally occurring substance in the body. Versa has been approved by the FDA for the cosmetic treatment of lines and wrinkles. This filler is manufactured in North America and meets all FDA and global safety standards.
Some patients may experience some redness and swelling at the injection site but this typically won't persist longer than a week after treatment. If you have acne, allergies, or acute or chronic skin conditions, you may not be a candidate for treatment with Versa.
Contact Dr. Suzanne Quardt today to find out whether Revanesse Versa is right for you and if you would benefit from other non-surgical treatments, such as a chemical peel or complementary dermal fillers.