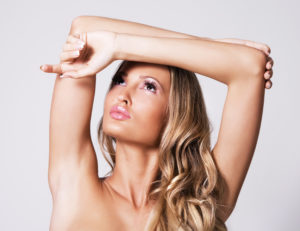 Arm Lift Palm Desert (Brachioplasty)
If your upper arms sag or hang after you've lost weight, grown older or for other reasons, and if exercise to tone the muscle hasn't improved their appearance, you may consider having an arm lift. An arm lift, or brachioplasty, removes loose, inelastic skin that can leave you with what is sometimes called a "bat wing" look. Arm lifts also target weakened underlying tissues and fat deposits to help revitalize drooping upper arms.
By trimming extra skin and fat between the shoulder and elbow, arm lifts produce smoother skin, slimmer contours, a less fatty or "full" appearance, and a more proportional look to the upper arms.
The Procedure
Arm lifts require anesthesia. Dr. Quardt will discuss what type of anesthesia is most appropriate for you. During an arm lift, Dr. Quardt makes an incision from the underarm to the elbow along the inside or back of the upper arm. She then trims excess skin, removes fat deposits using liposuction and tightens the underlying tissue to improve tone. Dr. Quardt may need to make additional incisions if your upper arms have pockets of hanging skin.
Recovery
You will be able to see your new, smoother, tighter upper arms as soon as the surgery is complete. As swelling and bruising subside, you will be better able to enjoy the results in both look and feel.
Your Consultation with Dr. Quardt
During your consultation, Dr. Quardt will talk with you about your expectations, whether you are a good candidate for an arm lift, and what to expect during and after surgery, including potential side effects.
Contact Dr. Quardt to find out more about arm lifts.