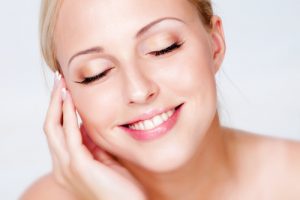 ADVANCED SKIN REJUVENATION WITH SKINPEN MICRONEEDLING
A minimally-invasive and effective solution to combat the signs of aging is finally here. Dr. Q™ Medical Spa in Rancho Mirage, CA, offers SkinPen Microneedling treatments as part of Dr. Qu's signature skin Re-Q™-Venating treatment programs. Now you can look years younger with skin rejuvenating treatments that boost your skin's ability to maintain its youthful appearance. Board Certified plastic surgeon Dr. Suzanne Quardt (Dr. Q™) offers advanced micro needling treatments using the FDA-cleared SkinPen device and her patients are enjoying incredible results with their series of treatments.
How SkinPen Microneedling Rejuvenates Your Skin
If you're concerned about fine lines, wrinkles, acne scars, or hyperpigmentation, lasers or harsh skincare products aren't your only options. Microneedling is one of the most effective ways to rejuvenate the skin from inside out and Dr. Q uses advanced protocols to perform this treatment using the innovative SkinPen device at her practice.
SkinPen microneedling treatments work by creating small micro-channels in the skin using very fine needles. These needles puncture the skin at different depths which triggers the body's natural healing process. This healing process involves building collagen and repairing the cells as quickly as possible. The result? Smoother, firmer, and more youthful looking skin. It's a controlled injury to the skin and produces remarkable results after just a few treatments.
Benefits of SkinPen Microneedling
Some of the benefits of microneedling with the SkinPen include:
Only FDA-cleared microneedling device in the United States
Produces predictable results
Can reduce appearance of fine lines and wrinkles
Can improve appearance of acne scars
Can restore textural irregularities
May be used to treat stretch marks
Can treat hyper pigmentation and hypopigmentation
What to Expect with SkinPen Microneedling Treatments
Dr. Q will take the time to learn about your skin concerns and map out a customized treatment plan that will help you reach your goals. In most cases, patients need about two to three treatments spaced 6 to 8 weeks apart. This gives the skin plenty of time to heal and rejuvenate between treatments.
Your face or other treatment areas will be numb throughout treatment so you don't have to worry about pain and discomfort. Once you are numb, Dr. Q will press the SkinPen across the treatment areas to create small punctures, or wounds, in deeper layers of the skin. This immediately triggers the healing response which means the skin will start to rebuild itself quickly. At this stage, the skin also responds well to any topical products such as serums and moisturizers because the micro-channels we've created help the skin absorb products rapidly.
After your treatment session, your skin may appear a little red or flushed. This is perfectly normal and any redness will subside within 24 hours. Applying the recommended products after treatment can help you get the best possible results from microneedling so it's a good idea to follow Dr. Q's post-treatment skincare instructions. Your skin will continue to heal for up to 6 months after your treatment so you can expect to see gradual improvements as well as an immediate difference.
Now you can fight the signs of aging the easy way. Find out if the SkinPen Microneedling treatment is right for you by scheduling a consultation with Dr. Q today!