Enhance Your Youthful Glow with Eclipse Micropen™ Advanced Micro-needling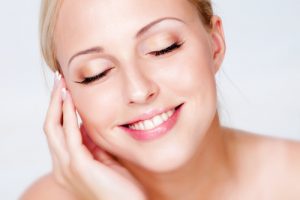 While our skin absorbs a tremendous amount of damage from daily exposure to the sun, wind, and harsh environmental pollutants, it also has a tremendous ability to heal itself, constantly producing and reproducing the critical proteins needed to keep it fresh and youthful: collagen fibers to keep the skin firm and strong, and elastin to keep it supple and healthy. Unfortunately, as we age, the skin's ability to heal itself starts to slow and the first signs of aging begin to appear. Luckily, advanced rejuvenation techniques such as Automated Micro-Needling, or Collagen Induction Therapy (CIT), can now help the skin overcome the natural aging process and heal itself more effectively in order to restore your healthy, youthful glow and enhance your naturally-beautiful skin.
At Dr. Q™ Plastic Surgery, located in Rancho Mirage, CA, Board-certified plastic surgeon Dr. Suzanne Quardt (Dr. Q™) is pleased to offer the Eclipse MicroPen™ as a stand-alone skin enhancement procedure or as an integral element in her cutting-edge skin-re-Q™-venation treatments. The Eclipse MicroPen™ is the latest advancement in automated micro-needling, harnessing powerful medical-grade technology to maximize your skin's natural wound-healing capabilities. The Eclipse MicroPen™ works by creating controlled micro-channels deep in the skin to simulate the skin's natural production of collagen and elastin. These micro-channels also enable topical gels, creams, and serum to penetrate deep into the epidermis for further healing and skin regeneration. The Eclipse MicroPen™ is a minimally-invasive treatment perfect for reducing the appearance of fine lines and wrinkles, acne scars, pigmentation problems (both hyper-pigmentation and hypo-pigmentation), and stretch marks, leaving you with fresh, healthy, younger-looking skin!
 Your Eclipse Micropen™ Treatment
Your customized Eclipse MicroPen™ rejuvenation procedure can be completed in an easy-to-schedule 15-30 visit to Dr. Q™'s comfortable, pristine private practice. Before the treatment, your clinician will apply a topical hydrating gel to help alleviate discomfort during the procedure. After this thin layer of gel is applied, the MicroPen™ will be pressed against the skin and simultaneously moved in one direction across the treatment area, enabling the 12 sterile needle tips to gently puncture the skin. While the sensation can best be described as similar to the feel of light sandpaper being moved across the skin, the speed of the reciprocating needle tip, combined with the topical gel, makes the treatment more comfortable than most patients anticipate.
After your Eclipse MicroPen™ treatment, your skin will take on a bright red hue. This side effect is minor and temporary: most patients find that they heal completely in as little as 24 hours, although patients who have selected a more intensive treatments involving overlapping passes may find the redness continues for 2-4 days. Patients who follow the skincare recommendations of their clinician, especially the use of recommended skincare products, should experience faster healing times.
Your skin's rejuvenated glow will be noticeable almost immediately, and as your natural collagen production increases and your skin continues to heal itself, you will continue to see visible changes in the quality of your skin for up to six months. While one treatment may be sufficient to heal minor skin damage, for optimal results, we recommend that most patients receive 2-3 treatments spaced about 6-8 weeks apart; patients with deep wrinkles, advanced sun damage, or acne scars may require 6-8 sessions for complete rejuvenation.
Eclipse MicroPen Featured on The Doctors
Contact Dr. Q™ Plastic Surgery
From the moment you walk through the doors of our pristine facility, you will experience the exceptional standards of patient care that Dr. Q™ and her staff work tirelessly to maintain. We treat our patients with the warmth, compassion and respect that they deserve, and are always available to address any of your concerns.
If would like additional information about the revitalizing effects of our Eclipse MicroPen™ advanced micro-needling treatments, please contact Dr. Q™ Plastic Surgery today. We look forward to speaking with you, and to scheduling your initial consultation with Dr. Q™.