Suzanne M. Quardt, M.D.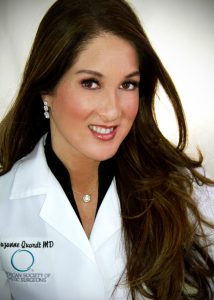 Dr. Suzanne Marie Quardt, referred to affectionately as "Dr. Q ™" by her many patients, is Board-Certified by the American Board of Plastic Surgery. She was born in New York City as a foster child, then adopted by her loving parents and raised in nearby New Jersey where she received the Garden State Distinguished Scholar Scholarship for Rutgers University. She received a Bachelors degree in Biology and then continued her education at the University of Medicine & Dentistry of New Jersey-NJ Medical School campus in Newark. She graduated with honors, earning her Medical Degree (M.D.) as well as the Faculty Organization Award for Most Outstanding Research Project. Dr Q ™ performed a Sub-Internship at the prestigious Columbia University and received a letter of recommendation from the now very famous Dr. (Mehmet) Oz. She went on to interview around the nation, and was accepted at the University of Southern California in Los Angeles- one of the most competitive as well as challenging surgical training programs in the country. She did her General Surgery Residency, Plastic Surgery Residency as well as Research years at the LA County / USC Medical Center and published numerous scientific and clinical articles in peer-reviewed Journals. She served as Chief Resident in Plastic Surgery at USC from 2003 to 2004, and remains influenced and inspired by her many outstanding Professors and mentors there who encouraged her plastic surgery career.
Dr Q ™ then went on to complete a Specialty post-graduate Fellowship training program in Complex Plastic Reconstructive and Burn Reconstructive Surgery at Rancho Los Amigos National Rehabilitation Center in Downey, CA. She has cared for numerous spinal cord injury patients and knows how to manage very difficult pressure sores, and complex wound care. Dr Q ™ served as the Assistant Medical Director of Eisenhower's Wound Care Center upon the center's opening in 2008 specializing in complex wound management and hyperbaric oxygen therapy.
Dr. Quardt further specialized her experience and skills with an American Society of Aesthetic Plastic Surgeons (ASAPS)-accredited USC / Aesthetic Surgery Fellowship in Los Angeles, California. She received extensive training in the latest advancements in all aspects of cosmetic surgery, with a particular emphasis on breast surgery and liposuction/liposculpture techniques. While she was there, her ongoing research efforts led to many publications and presentations regarding the safety and efficacy of the complex procedure of combining a mastopexy (breast lift) surgery along with breast augmentation– one of her most-requested and specialty procedures that she is now so very well-known for making Dr Q a breast surgery specialist!
See Dr. Q on Dr. 90210 Beverly Hills
Chief of Plastic Surgery and "Top Doc"
Dr Q ™ moved to the greater Palm Springs area in 2006 and immediately fell in love with the beautiful Desert Community and all it has to offer. She served as the Chief of Plastic Surgery at the prestigious Eisenhower Medical Center in Rancho Mirage from 2009 to 2011, and has served on several Hospital Committees there. Dr Q appreciates that her patients' safety is paramount. She performs surgery either at the hospital, or in her own, private, fully-accredited (by the American Association for Accreditation of Ambulatory Surgery Facilities) on-site Surgical Suite, with the best Anesthesiologists and top Anesthetists. Dr Q ™ has been named one of the Coachella Valley's "Top Docs" by Castle Connelly, Ltd in Palm Springs Life magazine every year since 2011- an honor that one "cannot buy"… but is awarded to those who have been nominated and voted for by their very own Peers (think "SAG" awards- but for doctors)!
Dr Q ™ performs all aspects of Plastic Surgery including cosmetic surgery of the face and body, as well as challenging cases including reconstructions after breast, skin and other cancers, trauma, and other medical conditions. Dr Q has built a beautiful, state-of-the-art Cosmetic Surgery Center that also hosts her own Dr Q Medical Spa where she offers the latest and greatest in Non-Surgical technologies for procedures such as Botox & Xeomin (aka "Newtox") (neurotoxins for wrinkles), Facial Fillers (Juvederm, Restylane, Volbella, Voluma, Jeuveau), face and neck skin-tightening (with Ultherapy and Miracu PDOThread-Lifts), fat-reduction-(with Coolsculpting), cellulite reduction and body skin-tightening (with VelaShape III), advanced skin-care including Hydrafacials, medical peels, laser resurfacing (CO2RE Fractionated Laser), tattoo-removal (with Picoway laser), sublative radiofrequency technology (with eMatrix), microneedling with or without PRP, Autologous fat Stem Cell transfer to the face for more permanent filler results (with ALMI fat transfer system) and Scalp treatments with PRP and Stem Cells for thinning hair. Only the best, most effective and advanced Cosmeceuticals as well has her own proprietary Dr Q Skin-Care lines are recommended and sold for your specific skin-type. Your treatments are performed in a luxuriously comfortable and serene, spa setting! Her practice has expanded so rapidly that she is now happy to announce a new location with a private, accredited surgery center in Beverly Hills, California as well, to help serve her many patients that travel quite far to see her!
Dr Q ™ is a member of numerous national medical societies including the American Society of Aesthetic Plastic Surgeons, American Society of Plastic Surgeons, the California Society of Plastic Surgeons, Diplomat of The American Board of Plastic Surgery, and the American Society for Laser Medicine and Surgery. Dr Q ™ supports many local organizations including 100 Women of Desert AIDS Project and The Women's Leaders Forum and has served as a Mentor for the Young Ambassadors Program of the WLF- for young women interested in becoming surgeons. Dr Q ™ supports many local charities including The Desert Cancer Foundation, Olive Crest, The Desert AIDS Project & 100 Women of DAP, The Women's Leaders Forum, The American Heart Association, Go Red for Women and Loving All Animals. Dr Q received the prestigious Palm Springs Athena Leadership Award for her philanthropic works. When not in the OR or office, you can find Dr Q ™ spending time with her husband Rick and their precious toddler daughter Isabella Maria and three rescue doggies, TJ, Simon and Buddy, as well as their fabulous circle of friends. She has always had an artistic flair, and enjoys a lifelong passion with dancing, music, playing classical piano and art. Dr Q along with her husband, Rick also practice what she preaches, and both follow a healthy, gluten-free, paleo diet, and active lifestyle to keep physically fit- particularly since Rick still participates and competes in Physique body-building competitions. Dr Q and Rick have a passion for high fashion, and they have participated as "Diva Sponsors" for Palm Springs Fashion Week put on by "Palm Springs Life". They both love music and enjoy going to all different types of concerts including Pop, Country, Old School, Jazz and Classical music. They both have a wicked sense of humor and enjoy comedy shows and numerous different comedians. Their hobbies also include dancing, jiu-jitsu and traveling the world. Dr Q's motto is "a Surgeon's Hand with a Woman's Touch" and you always know that with Dr. Q ™… "it's all about YOU!"
Visit Dr. Q's RealSelf
Do not forget to join Dr. Q ™'s VIP Club
Dr. Quardt's complete CV (Curriculum Vitae/Resume).
---
Palm Springs Top Doc 2011