Breasts look and feel after transgender breast augmentation plastic surgery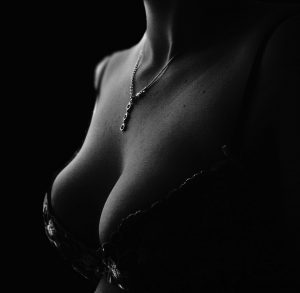 Many transwomen and non-binary transfeminine individuals seek larger, more voluptuous breasts. MTF breast augmentation cosmetic surgery is an ideal solution for such candidates.
The final outcomes of MTF breast implants will certainly be dramatic, but not necessarily perfect. It is vital for patients to have reasonable expectation prior to undergoing surgery.
Board certified plastic surgeon Dr. Suzanne Quardt (Dr. Q) provides MTF transgender breast augmentation to patients in Palm Springs, Palm Desert, Rancho Mirage, and surrounding communities.
What will my Breasts appear and feel like after Surgery?
Each patient is unique. There is no method to predict precisely how the breasts will appear and feel after surgery. It is vital to understand that surgically enhanced breasts tend to appear and feel slightly different from natural breasts.
In general, augmented breasts are usually slightly further apart, tauter and fuller. These aspects are noticeably pronounced in transgender patients who choose to undergo breast augmentation later in life as their chests have not undergone the same aging process (drooping and sagging) as cisgender women.
In addition, transgender patients often have a broader, more pronounced chest in comparison to cisgender women. The more masculine characteristics can be minimized by selecting the appropriate size and type of implant.
The surgeon will work with the patient to develop a customized surgical plan. By speaking candidly about their aesthetic goals with the surgeon, the patient can help them understand their goals.
MTF Breast Augmentation: Before and After Images
As no two people have similar bodies, it is challenging to project the final plastic surgery outcomes. But 'before and after' images are a helpful tool during the consultation process.
Suggestions for viewing before and after images:
The patient should rely on images of other patients with a similar body shape as their own, for instance, overall weight, chest width, and height. This will enable them to get a better sense of the shape and size of the implants they want.
The patient should identify images of patients who are near their age. Younger patients usually have more elastic skin, which can impact the final outcomes.
It is a good idea to look for post-op scarring. While most breast augmentation procedures create minimal scarring, the location of the incisions will ultimately determine their outcomes.
Trying Out Implant Sizers
Trying out breast implant sizers is another effective way to understand how the patient will appear post-surgery. Sizers can help patients identify the correct cup size for their body type and aesthetic goals. In case the patient tries them in the office, they can get a better idea of how their breasts will feel.
Out-of-town patients can create their own sizers using the below mentioned materials:
Tights or pantyhose
Dry rice
Measuring cups
Scissors
After the patient gathers these materials, they should cut each leg of the pantyhose in half. They should then stretch out each hose to make sure that there is sufficient room for the dry rice.
The patient should use a measuring cup to measure the right quantity of rice that they will need for their sizers. The standard breast implant sizes are:
1 cup of rice = approximately 250cc
1/2 cup of rice = approximately 125cc
1/4 cup of rice = approximately 75cc
The top of the sizers should be secured with a knot, and the patient can try them out with a sports bra. While they will not feel like breast implants, they can offer the patient an idea of how their breasts will appear beneath any clothing.
Cosmetic surgeon Dr. Suzanne Quardt (Dr. Q) receives patients from Palm Springs, Palm Desert, Rancho Mirage, and nearby areas for MTF breast augmentation.
To learn more about the plastic surgery treatments and procedures performed by Board Certified Plastic Surgeon, Dr. Suzanne Quardt (Dr. Q) please contact us at 760-324-2660. To learn more about Dr. Q's Medical Spa please visit drqmedicalspa.com
Dr. Q receives patients from Palm Springs, Palm Desert, Rancho Mirage, and other suburbs and towns in this part of California.