COSMELAN AND MESOESTETIC PEELS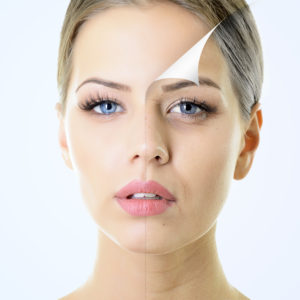 Chemical peels are minimally invasive skin rejuvenation treatments that have become increasingly popular for their proven ability to improve the appearance of troublesome skin concerns (i.e. hyperpigmentation, melasma, acne scarring, rough/uneven skin tone, acne) with the application of carefully formulated chemical solutions. Chemical peels work by exfoliating and stripping away the damaged, discolored skin cells on the outermost layers of the skin (epidermis) to reveal smooth, luminous, evenly balanced skin. At Dr. Q™ Plastic Surgery, located in Rancho Mirage, CA, Board-certified plastic surgeon Dr. Suzanne Quardt (Dr. Q™) is pleased to offer her patients the most effective chemical peel options from well-established leaders in the medical aesthetics industry, such as Cosmelan and Mesoestetics.
MESOESTETICS CHEMICAL PEELS
Mesoestetics is a trusted medical aesthetics company that offers a variety of powerful chemical peel formulations for patients suffering from any number of undesirable skin conditions. Your chemical peel formula can be adjusted to reflect your skincare needs and scheduling constraints—many of our peels are so gentle that no post-treatment downtime is needed:
Mesopeel Azelan: the Azelan peel contains the perfect combination of exfoliating acids to improve the condition of oily, acne-prone, and/or acneic skin types. This peel also works to minimize rosacea and post-inflammatory hyperpigmentation while expediting the healing of blemishes
Mesopeel Jessner: the modified Jessner solution is ideally suited to treat sun-damaged skin and mild hyperpigmentation (skin darkening) and/or hypopigmentation (skin lightening), effectively restoring the skin's naturally luminous, radiant glow
Glycolic Peel: patients seeking to improve mild photo damage and soften the appearance of fine lines and wrinkles may benefit from a single acid glycolic peel, which helps to stimulate the formation of collagen and elastin—two key components needed to restore and maintain youthfully firm, healthy skin
Mandelic Peel: for the gentle treatment of combination skin conditions (i.e. mild breakouts, pore congestion, early signs of aging, and mild pigmentation irregularities), single acid mandelic peels are an excellent choice
Mesopeel TCA 35%: this advanced chemical peel is formulated with trichloroacetic acid (TCA), and is ideal for patients who require a more powerful treatment than a superficial peel can provide, but do not want the expense or recovery time necessitated by deeper peels. The TCA works to soften and resurface the skin, and has proven helpful for the treatment of moderate to severe photo damage, medium to deep wrinkles, seborrhea and actinic keratosis, and/or mild to moderate acne
Mesopeel 'Soft' TCA 15%: a milder formulation of the traditional TCA 35% peel, the "soft" peel improves the skin's texture and radiance and is a gentler option for younger patients, or patients seeking treatment for mild photo damage, fine lines and wrinkles, seborrhea keratosis, and mild acne.
Lactic Peel: these hydrating peels are optimized for the treatment of mature, dry, and sensitive skin types. Lactic peels work to soften fine lines and wrinkles while stimulating new collagen growth and elastin production
Mesopeel Piruvex: the Piruvex peel is a natural acid peel that penetrates deep into the skin to trigger collagen and elastin production. This peel is appropriate for patients who present with hyperpigmentation (skin darkening), actinic and seborrhea keratosis, moderate photo damage, and/or fine lines and wrinkles
THE COSMELAN® CHEMICAL PEEL
The Cosmelan® chemical peel is often recommended for patients seeking to improve the appearance of hyperpigmentation (skin darkening, sun spots, melasma) and other forms of dyschromia (skin pigmentation irregularities), which can detract from the youthful evenness of the skin. Excess melanin production is at the root of many pigmentation irregularities—the Cosmelan® peel works by inhibiting the production of tyrosinase, the enzyme required to produce melanin (skin pigment). The Cosmelan® peel also delivers skin-smoothing benefits, and is helpful for patients suffering from acne-prone skin, acne scars, and/or injury-related facial scarring.
Most of our patients notice significant skin improvements after two in-office Cosmelan® peel services. The first peel will treat the entire face, whereas the second, follow-up peel will be performed approximately one month later to "touch up" any areas with residual pigmentation irregularities. The skin enhancements achieved with the in-office Cosmelan® peels can be extended and amplified with the use of the Cosmelan 2® at-home skincare treatment. The Cosmelan® peel does not contain hydroquinone or TCA and is not a bleaching cream, which is why it has such a high safety margin and is considered a safe and appropriate skin rejuvenation treatment for all skin types.
CONTACT DR. Q™ PLASTIC SURGERY
From the moment you walk through the doors of our pristine facility, you will experience the exceptional standards of patient care that Dr. Q™ and her staff work tirelessly to maintain. We treat our patients with the warmth, compassion and respect that they deserve, and are always available to address any of your concerns.
If would like additional information about the revitalizing effects of the Cosmelan chemical peel, or would like to learn more about any of the Mesoestetics chemical peels, please contact Dr. Q™ Plastic Surgery today. We look forward to speaking with you, and to scheduling your initial consultation with Dr. Q™.