Breast Sagging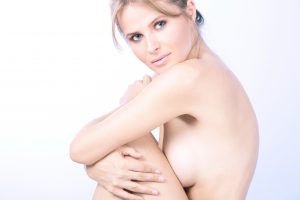 For women who have no "sagging" of their breasts, breast augmentation alone is sufficient. However, many women have breasts that "droop" secondary to breastfeeding, weight-loss, or just their "anatomy". Our medical term for "droopy breast" is called "breast ptosis"- and there are 3 Grades that we go by. A youthful breast that has no ptosis- the nipple is in the center of the breast above the level of the inframammary fold. In Grade I Ptosis, the nipple descends down to about the level of the inframammary fold. In Grade II Ptosis, the nipple descends down to below the level of the inframammary fold. In Grade III Ptosis, the nipple essentially points "down to the floor"- and in these extreme cases- a breastlift will most certainly be required in order to give a pretty breast shape.
For those with Grade I or Grade II breast ptosis… these women may or may not require some sort of mastopexy along with breast augmentation- but there are many variables. For women with a mild amount of ptosis (such as Grade I or mild Grade II) who desire a very "natural" breast shape and do not desire the scars, cost or recovery related to mastopexy… it is possible to place the breast implant "above the muscle" in the subglandular plane and avoid the mastopexy. Women often ask me- "will my breasts then sag more over time?"- and the real answer is that we all will continue to age and our skin will thin with time. The weight of the implant will also cause some more stretching out of the lower pole tissues of the breasts over time- causing "attenuation" of the lower pole soft-tissues.. and that is why after some women have had implants for a while, they may start to feel the edge of their breast implant in the lower pole. If a woman has very thin or inelastic skin (which can often be pre-determined by the presence of stretch-marks or stria) – I often recommend that they wear bras as much as possible (even during sleep) to help support their breast and worsening glandular ptosis over time. For women who, during their consultation, "hike their breasts up higher up onto their chestwall"… and state, "I want my breasts up here"… I can pretty much determine that they already desire a breastlift.
Breast lift
A breastlift is required when there is too much skin in the lower pole of the breast. Resecting that skin results in a scar when we "put everything back together". The typical scar-designs depend on the "amount" of lifting required. The smallest breastlift is called a "crescent" mastopexy because a small, crescent of skin is removed above the level of the nipple to help move it upward. The next level is called a "circumareolar" mastopexy where skin is removed all around the nipple-areolar complex… we typically make widened areolas smaller in diameter… then take excess skin out from around the newly-marked areola and more skin above to lift it… this results in a new scar around the new, smaller areola. These types of mastopexies may look like the skin is "scrunched-up" or pleated around it at first… and this will smoothen out over time. Also, these types of mastopexies may be prone to stretching back out over time causing the new areola to widen- and often depends on the amount of tension around the areola. So, although the scar-location of being limited to just around the areola is always desirable… sometimes if there is too much "tension" around this type of closure… the end result may not look best and more of a mastopexy- such as the circum-vertical that I shall discuss next… will ultimately result in a better breast shape. The "vertical" or "lollipop" lift is generally used for patients with Grade II ptosis and the scar runs around the areola then down the midline center of the breast (looks like a "lollipop"!). Some women are very concerned about the midline scar and its visibility… however if that type of mastopexy is required, I tell them that you are trading a "scar for a shape" because you need to excise that excess skin in the lower pole to narrow the lower end of the breast, tighten it up and make it look perkier and prettier. The most extensive type of mastopexy is called the "anchor" or "inverted-T" scar. This is where the scar runs around the areola, down the midline center of the breast, then underneath in the area of the inframammary fold (and thus looks like an anchor or inverted T). Sometimes, we can limit the scar to a "J"-design and just curve it out laterally (out to the side) and avoid the medial inframammary scar. I always try to limit the length of the medial inframammary scar in order to keep the cleavage line area clear and not have scars visible if one decides to wear a plunging neckline or certain bras or bathing suits.
There are a lot of nuances when combining breast augmentation surgery with breast-lifting… so be sure that your surgeon has a LOT of experience performing these procedures as well as a lot of before and after photos for you to view. There are significant risks to the procedures… one of the most severe being "nipple necrosis" or death of the nipple due to poor blood-supply that must be avoided- and less experienced surgeons may not be as careful to avoid the pitfalls of this combined surgery! I have published on this very topic of combining breast augmentation safely with breast-lifting surgery during my Fellowship in Aesthetic Plastic Surgery and therefore feel very confident performing these procedures.
In my next blog… I will discuss more in depth regarding implant selection, plane of placement of breast implants and types of mastopexies for different types of women!
To learn more about the plastic surgery treatments and procedures performed by Dr. Suzanne Quardt (Dr. Q) please contact us at 760-324-2660. To learn more about Dr. Q's Medical Spa please visit drqmedicalspa.com
Dr. Q Medical Spa receives patients from Palm Springs, Palm Desert, Rancho Mirage, and other suburbs and towns in this part of California.