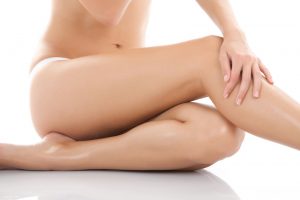 Spider veins refer to tiny blood vessels that twist and turn and can be seen through the skin. They may appear blue, red, or purple. Spider veins are usually visible on the face, chest, or legs. They can occur due to genetics, jobs that necessitate standing for long durations, obesity, and other factors.
Several patients with spider veins are unhappy about the appearance of the affected site(s). Others may experience painful cramping, aching, throbbing, or other uncomfortable symptoms. CO2RE is an innovative laser system that can target and treat a wide range of skin issues, including spider veins.
Board certified plastic surgeon Dr. Suzanne Quardt (Dr. Q) provides safe and proven spider vein treatments to patients in Palm Springs, Palm Desert, Rancho Mirage, and surrounding communities.
What is Laser Spider Vein Removal Treatment?
For people seeking spider vein treatment for aesthetic or medical reasons, there are various options available today, including laser spider vein removal. In spider vein laser treatment, laser energy is used to close the diseased veins. The heat emitted by the laser causes micro-damage to the vein, which converts into scar tissue.
This eventually causes the vein to collapse and close off. Once the vein is fully closed, the blood naturally reroutes to a healthier vein for continuous circulation. Laser spider vein removal may be an appealing alternative to sclerotherapy for some patients, which is a procedure that uses injections to create the same outcome.
What is the Difference between Spider Vein Laser Removal and Sclerotherapy?
Both spider vein laser removal and sclerotherapy create similar results. But spider vein laser treatment is undertaken without the involvement of needles or injections.
In this procedure, a laser beam is applied on the surface of the skin. It may also involve the use of a specialized vein viewer, which enables the provider to detect the vein that requires treatment with a high level of accuracy.
This is an appealing treatment option for patients who are uncomfortable with needs. Both procedures cause the vein to eventually close up, after which the blood naturally reroutes to another healthy vein.
A vein may take up to one to two years to fully disappear following spider vein laser treatments. In general, it takes lesser time for a vein to close after sclerotherapy.
Does Laser Spider Vein Removal cause any Side Effects?
One or more of the following side effects may occur near the treatment site(s) with laser spider vein removal:
Blister development

Skin discoloration

Minor discomfort
What are the Advantages of Laser Spider Vein Removal?
The advantages of receiving spider vein laser treatment include:
No involvement of needles

Non-invasive treatment

Highly effective

No downtime

Can be undertaken on an outpatient basis
Laser Resurfacing Benefits
Patients typically choose to undergo laser skin resurfacing as an alternative to more expensive and invasive surgical options. Unlike surgery, laser resurfacing treatments:
Cause minimal (if any) discomfort

Are targeted procedures, addressing only the designated skin area, which prevents skin lightening (hypopigmentation) or damage to the surrounding skin tissue

Quickly and consistently create remarkable clinical results

Present a low risk of treatment side effects

Require minimal, if any, post-treatment downtime

Are safe and suitable for use on all types of skin
Cosmetic surgeon Dr. Suzanne Quardt receives patients from Palm Springs, Palm Desert, Rancho Mirage, and nearby areas for advanced and effective spider vein treatments.
To learn more about the plastic surgery treatments and procedures performed by Board Certified Plastic Surgeon, Dr. Suzanne Quardt (Dr. Q) please contact us at 760-324-2660. To learn more about Dr. Q's Medical Spa please visit drqmedicalspa.com
Dr. Q receives patients from Palm Springs, Palm Desert, Rancho Mirage, and other suburbs and towns in this part of California.