Botox for Crow's Feet – Palm Springs | Palm Desert | Rancho Mirage
Dr. Suzanne Marie Quardt, or Dr. Q as she known among her patients, is an experienced provider of state of the art aesthetic treatments. Dr. Q has been featured in a number of national publications, including Plastic Surgery Practice and New Beauty Magazine. Patients in Palm Springs, Palm Desert and surrounding communities have an opportunity to receive safe, proven, and effective treatments at Dr. Q's office.
Why Choose Botox?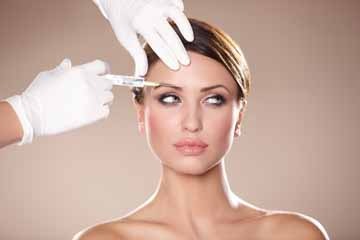 Patients who are keen to reduce the signs of aging from their face, but do not wish to undergo a cosmetic surgery procedure may be outstanding candidates for Botox treatment. Botox cosmetic solution is based on botulinum neurotoxin, which is a highly potent biological substance known to man. The treatment must be received only from an experienced Botox provider or a qualified plastic surgeon because of its lethal nature.
An expert Botox provider will use the neurotoxin in controlled quantities to reduce wrinkles and fine lines from the face. The treatment was approved by the FDA in 2002 for the cosmetic reduction of frown lines on the forehead. Ever since then it has been adopted as one of the most popular and effective anti-aging treatments for patients who are keen to avoid an invasive procedure with a cosmetic surgeon.
FDA Approval for Crow's Feet
Crow's feet or lateral canthal lines refer to the fine wrinkles and lines that radiate from the far outside corners of the eyes. These lines can make the eyes appear tired and the person can look more aged than his or her years. Dr. Q recommends Botox to reduce crow's feet for her patients in Palm Springs, Palm Desert and nearby areas as a non-invasive replacement for plastic surgery procedures such as brow lift or eyelid lift.
The FDA has recently given its official approval for the use of Botox treatment to reduce crow's feet around the eyes. With the stamp of FDA approval, a greater number of patients will be encouraged to go for this treatment. When Botox is used to reduce crow's feet, it can make the eyes appear rejuvenated, rested, and more youthful.
How does it Work?
Botulinum neurotoxin has a unique property to cause a blockage of communication between the nerve and the muscle when it is directly injected into a muscle in prescribed quantities. Unlike cosmetic surgery procedures, the treatment does not involve any incisions. The Botox provider can use fine needles to inject the medication directly into the targeted overactive muscle that is causing the formation of a wrinkle.
As soon as the chemical reaches the muscle, it cuts off the communication with the nervous system, and the muscle becomes paralyzed for a temporary period. With the muscle no longer active, the wrinkle on the surface of the skin fades away immediately. The effect of a single Botox treatment can last for anywhere between three and six months. The treatment may be repeated for extended benefits in consultation with an experienced Botox provider or a plastic surgeon.
Botox Study for Crow's Feet
Allergan, Inc., the company that manufactures Botox, received FDA approval following extensive tests and studies to show the effectiveness of the treatment for reduction of crow's feet. One major study was conducted by Allergan that involved more than a thousand adult participants, who were divided into two groups. One group of 833 participants was treated with Botox for crow's feet reduction, while the other group was left untreated.
The group that received the treatment showed significant reduction in the appearance of crow's feet when compared to the untreated group. Dr. Q recommends to her patients in Palm Springs, Palm Deserts and nearby areas to have realistic expectations from the procedure, and reminds them that the results will last only temporarily from three to six months.