Tummy Tuck vs. Liposuction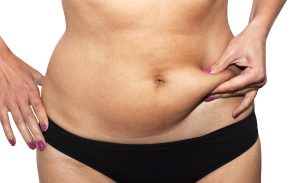 A common aesthetic concern among adults in various age groups is the accumulation of excess fat tissue in the abdominal area. Over time, these fat deposits become stubborn and may not go away with diet or exercise. This is where a cosmetic surgery procedure may help to reduce unwanted fats and restore a flatter abdomen with improved contours.
Tummy tuck and liposuction are two of the key surgical procedures that are designed to reduce excess fat deposits in the waist area. Dr. Suzanne Quardt (Dr. Q) is an eminent plastic surgeon providing both of these procedures in a state of the art surgical environment. Dr. Q receives patients from Palm Springs, Palm Desert, Rancho Mirage, and surrounding communities.
Major Distinctions
Liposuction and tummy tuck surgery are significantly different procedures on several counts. During the initial consultation, the aesthetic surgeon will discuss various aspects of both procedures and help the patient make the right decision.
Reduction of Excess Skin and Fat
Many patients may not only accumulate excess fat in the abdominal area, but also develop loose skin and loose or separated underlying muscles. These conditions can make the abdomen sag substantially, and tummy tuck may be the more appropriate plastic surgery procedure in such a case. Liposuction procedure, on the other hand, is essentially meant to reduce unwanted fat deposits, but it is not designed to tighten sagging skin or weak muscles.
Complexity of Surgery
In comparison to liposuction, tummy tuck is usually a more complex procedure. It may be performed using general anesthesia, and the duration of surgery may be longer. Surgical approach may be more comprehensive, requiring skin and muscle tightening, apart from fat reduction. Against that, liposuction is usually a less invasive surgery, but its scope of treatment is also limited as compared to tummy tuck.
Length of Scars
Incisions in case of tummy tuck may be more than one, particularly if both lower and upper abdominal areas need fat reduction. In case of liposuction, the incisions will be minor. Especially tumescent liposuction is a conservative technique involving very small incisions. Therefore, the length of scars is typically bigger in a tummy tuck surgery.
An experienced cosmetic surgeon such as Dr. Q will endeavor to keep the scars inconspicuous by placing them in subtle locations. Patients in Palm Springs, Palm Desert, Rancho Mirage, and nearby areas have an opportunity to receive both tummy tuck and liposuction from Dr. Q.
Duration of Recovery
Liposuction will involve shorter downtime, and most patients can go back to their workplace or resume their daily activities in about seven to 10 days. On the other hand, tummy tuck recovery process will take at least 10 to 14 days, and may be a little more painful as compared to liposuction due to bigger incisions.
Suitable Candidates
Golden candidates for liposuction will have a reasonably elastic skin and a moderate body weight, with only excess fat pockets in specific areas. Tummy tuck candidates, on the other hand, will have higher skin laxity, weak underlying muscles and significant fat accumulation around the waist.
To learn more about the plastic surgery treatments and procedures performed by Dr. Suzanne Quardt (Dr. Q) please contact us at 760-324-2660. To learn more about Dr. Q's Medical Spa please visit drqmedicalspa.com .