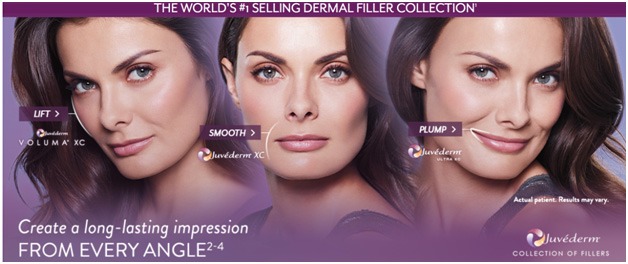 Juvederm Vollure XC is a one of its kind aesthetic filler treatment, which may be recommended to people who want to avoid facial cosmetic surgery. 
During the initial consultation, the treatment provider will explain to the patient about the benefits and limitations of Juvederm Vollure XC, and help them make an appropriate selection.
Once the patient has finalized Juvederm Vollure as the treatment of choice, the provider may show them a few before and after photographs to describe the potential benefits of this FDA approved deep wrinkle filler. Board certified plastic surgeon Dr. Suzanne Quardt (Dr. Q) provides Juvederm Vollure XC to patients in Palm Springs, Palm Desert, Rancho Mirage, and surrounding locations.
What are Juvederm Vollure XC Before and After Pictures?
Before and after pictures in case of Juvederm Vollure XC treatment refer to images belonging to a previous patient who has undergone the same injection procedure successfully.
The pictures includes images taken before the procedure and after the procedure at a time when the initial mild swelling and redness has been resolved and full effects of Juvederm Vollure XC treatment can be seen.
The treatment provider will take care to ensure that the photos are obtained with the express consent of the patient, and are presented discreetly before new patients. The patient's identity may be kept confidential as per the protocol. The goal of the filler expert is to help new patients make an informed decision after reviewing before and after photos. Some patients may also like to compare the results against other cosmetic surgery or non-surgical procedures.
Benefits
When a new patient is considering their facial rejuvenation treatment options, they may only have a limited understanding of what kind of impact a non-surgical treatment such as Juvederm Vollure XC can have in terms of mitigating facial creases and folds, such as nasolabial folds. Some patients may want to use the injectable procedure in multiple facial areas, while others may only a reduction in the nasolabial folds.
Sometimes the treatment provider may recommend Juvederm Vollure XC injections in conjunction with another procedure such as Botox or another cosmetic filler to create optimal outcomes. In each case, the patient will be better placed to make the right choices when they have access to Juvederm Vollure XC before and after photos.
The real game changer here is digital technology. This type of technology has revolutionized countless industries and the plastic surgery industry falls under this category. Now anyone can see what to expect without notifying anyone. The power is truly in the hands of the people. No longer do a select few have all the information. Now a patient can make a pivotal decision on their own and under their own timetable.
Having Reasonable Expectations
In any surgical or non-surgical aesthetic treatment, the patient should have a positive frame of mind, clear goals and realistic expectations in order to achieve the best results. With Juvederm Vollure XC before and after photos, the provider has a better chance to clearly explain to the patient about what to expect and what not to expect from the procedure.
Online Photos
The injection provider has an option to provide Juvederm Vollure XC before and after photos on their practice website which Dr. Quardt has done with fundamental acumen. Her transparency is a breath of fresh air.
New patients can review the pictures online in the privacy of their home or office and gain a better understanding of the procedure. Accomplished and perspicacious cosmetic surgeon Dr. Suzanne Quardt receives patients from Palm Springs, Palm Desert, Rancho Mirage, and nearby areas for Juvederm Vollure XC.
Website technology is amazing. As already discussed a patient can make a pivotal decision without involving others. This type of privacy in an open world is fantastic and in some cases rare. A patient can make this decision while sitting on their couch or sitting in a restaurant booth and it does not have to be made quickly. Someone can be contemplating this notion for weeks or even more than a year.
To learn more about the plastic surgery treatments and procedures performed by Dr. Suzanne Quardt (Dr. Q) please contact us at 760-324-2660. To learn more about Dr. Q's Medical Spa please visit drqmedicalspa.com