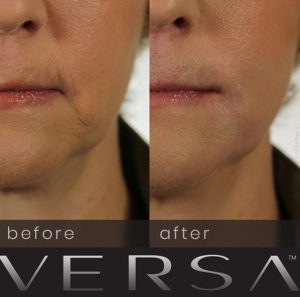 Revanesse Versa dermal filler treatment provides a consistent, predictable, and effective non-surgical technique to rejuvenate the face and mitigate signs of facial aging.
This procedure involves injecting Revanesse Versa gel into precise facial areas using small injections to reduce fine lines and creases.
During the pre-treatment consultation, the provider may show the patient Revanesse Versa before and after pictures of the patient. After viewing these photos, the patient can better understand the potential results of the filler treatment make an enlightened decision.
Board certified plastic surgeon Dr. Suzanne Quardt (Dr. Q) provides Revanesse facial filler injections to patients in Palm Springs, Palm Desert, Rancho Mirage, and surrounding locations.
Developing a Connection with New Patients
Revanesse Versa 'before and after' pictures enable the injection provider to create a connection with new patients in a more effective manner.
These images enable the patient to comprehend how Revanesse Versa treatment had a positive change in the facial appearance of previous patients, and how it could possibly help them achieve similar outcomes.
Revanesse Versa 'before and after' photos offer new patients with visual evidence of the effectiveness of the procedure. These pictures help develop a relationship of trust and transparency between the injection provider and the new patient.
They do more than that as well. We won't even mention how easy it is to see these pictures from the deck of a cruise ship in the middle of some foreign sea or sitting on the empty bleachers at your child's baseball practice. These digital images are so clear and vibrant you can apply them to yourself and predict the future.
Images offer Demonstrable Proof
Revanesse Versa 'before and after' images can present the true story in a more effective manner than mere words can. Sometimes, words can be difficult to understand and open to interpretation.
But the barriers of languages do not constrict images. Photos do not aggrandize the true story. However, the treatment provider should be cautious not to edit or photo-shop these images in any manner as this can be misleading to the patient.
The saying, "A picture is worth a thousand words" certainly holds true for before and after pictures of cosmetic procedures such as Revanesse Versa filler injectables. And a digital image fulfills its promise. Digital images are so clear they enable the viewer to know how this treatment will look on them when it's all said and done.
This means that the consultation goes that much easier and someone can make a key decision without making one phone call.
Informing People through Presence on Social Media
Today, social media platforms are universally popular. This has created new channels for sharing before and after images of cosmetic procedures, such as Revanesse Versa. Social picture sharing platforms, such as Instagram, enjoy over one billion active users every month.
Cosmetic and dermatology professionals can harness the massive appeal of these online platforms to promote effective and cutting-edge facial rejuvenation procedures. These sites offer unforeseen opportunities to share information.
Sharing Revanesse Versa before and after photos through these channels can play a pivotal role in informing thousands of prospective patients on such innovative treatments.
Ensuring that Expectations are Reasonable
Revanesse Versa dermal filler injectable treatment offers patients significant facial rejuvenation. But the outcomes may still not be comparable to those of facial plastic surgery, such as a facelift. The patient should be completely clear on what these injections can and cannot accomplish for them before going ahead with the treatment.
Dr. Q is completely transparent and we can discern this without ever having the consultation. The very fact that all those poignant images are on the site show everyone that she is content with her work and so many other people are satisfied with her work as well.
Patients with realistic expectations are better positioned to appreciate the final outcomes. Complete clarity on the results of the treatment can help patients avoid any future disappointments, at a time when it may be difficult to reverse the outcomes.
Cosmetic surgeon Dr. Suzanne Quardt (Dr. Q) receives patients from Palm Springs, Palm Desert, Rancho Mirage, and nearby areas for Revanesse cosmetic filler injections.
To learn more about the plastic surgery treatments and procedures performed by Board Certified Plastic Surgeon, Dr. Suzanne Quardt (Dr. Q) please contact us at 760-324-2660. To learn more about Dr. Q's Medical Spa please visit drqmedicalspa.com
Dr. Q receives patients from Palm Springs, Palm Desert, Rancho Mirage, and other suburbs and towns in this part of California.