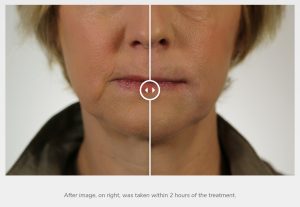 Revanesse Versa dermal filler treatment has currently become one of the most popular injectable procedures for people seeking to mitigate signs of facial aging in a non-surgical manner.
The injection provider will explain various facets of Revanesse Versa to the patient during the pre-operative consultation. Additionally, they will offer the patient a cost estimate of the treatment.
The initial goal of the provider will be to enable the patient to make a well-considered decision after accomplishing complete clarity on various aspects of the procedure, including its estimated costs.
Board certified plastic surgeon Dr. Suzanne Quardt (Dr. Q) provides Revanesse facial filler injections to patients in Palm Springs, Palm Desert, Rancho Mirage, and surrounding communities.
Cost Comparison
In comparison to facial plastic surgery and other procedure involving laser and ultrasound for facial rejuvenation, Revanesse Versa injections are more cost-effective. It takes around 20 to 30 minutes to administer these injections. Revanesse Versa provides more sustainable results compared to other filler treatments.
The outcomes of certain injectable filler treatments sustain for almost three months. But Revanesse Versa results can sustain for up to six months or longer.
This makes the Revanesse Versa filler treatment more cost-effective compared to other non-surgical treatments for facial rejuvenation.
Cost Factors
Revanesse Versa costs usually differ between patients and practices. The geographical location of a particular practice impacts the cost of the treatment. The overhead and living costs in main urban centers and large metropolitan cities are usually higher than such costs in smaller towns in interior regions.
This facet impacts the costs of goods and services in various areas, including the costs of cosmetic treatments such as Revanesse Versa. In addition, aspects such as credentials, qualifications, and experience of the injection provider affect the treatment costs.
Cost Evaluation
Revanesse Versa fillers come in various syringe sizes to meet the unique needs of different areas of the face. Smaller regions of the face need lesser amounts of gel, which reduces the overall costs of the treatment. For example, the patient may require only one to two syringes of Revanesse Versa for the treatment of smile lines around the lips.
The patient may require smaller and less expensive syringes for the treatment of finer lines surrounding the lips. At the time of the pre-treatment consultation, the patient should seek clarity from the injection provider on the approximate costs and other facets of Revanesse Versa.
In addition, they should compare Revanesse Versa costs with those of other dermal filler treatments to make an enlightened choice.
If the patient decides to undergo Revanesse Versa with another cosmetic treatment, they may be able to get some rebates, depending on the policies of the practice. Sometimes, the manufacturer of Revanesse Versa may also provide promotional rates, which may be beneficial to the patient.
Insurance and Financing
Patients usually undergo Revanesse Versa injections as an elective cosmetic treatment. For this reason, they will likely have to bear the procedure costs out of pocket. But patients can consider various financing options such as credit cards, bank loans, private loans, and financing through medical care financing companies.
Cosmetic surgeon Dr. Suzanne Quardt (Dr. Q) receives patients from Palm Springs, Palm Desert, Rancho Mirage, and nearby areas for Revanesse cosmetic filler injections.
To learn more about the plastic surgery treatments and procedures performed by Board Certified Plastic Surgeon, Dr. Suzanne Quardt (Dr. Q) please contact us at 760-324-2660. To learn more about Dr. Q's Medical Spa please visit drqmedicalspa.com
Dr. Q receives patients from Palm Springs, Palm Desert, Rancho Mirage, and other suburbs and towns in this part of California.