Stretch Mark Reduction Treatments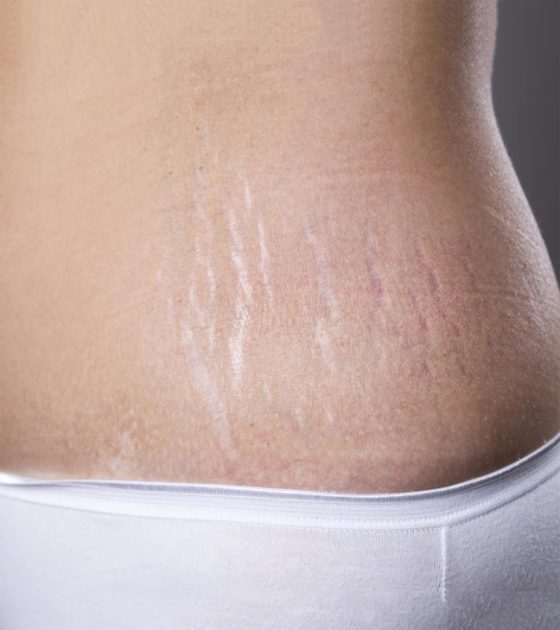 Stretch marks are difficult to hide. This is especially true if they are located in areas with thin skin. Healthier growth cannot replace the darkened tissue since the cells reproduce themselves. Specially designed laser tools are the best way to eliminate stretch marks completely.
One of the more popular treatments for stretch marks removal is fractionated CO2 laser therapy. This uses a carbon dioxide laser to produce long wavelengths that target darker skin tissues. CO2RE's multi-wavelength laser system is a highly effective device for removing stretch marks without undergoing surgery.
Board certified plastic surgeon Dr. Suzanne Quardt (Dr. Q) provides safe and proven stretch mark removal treatments to patients in Palm Springs, Palm Desert, Rancho Mirage, Beverly Hills, CA, and surrounding communities.
Fractionated CO2 Laser Treatment
Deep stretch marks and wrinkles are difficult to treat with short wavelength laser beams or pulsed light. These treatments are more effective in removing non-set wrinkles or superficial scars. CO2 lasers have longer wavelengths. They safely penetrate the deeper skin layers without harming the epidermal cells.
Fractionated laser beams are also pixilated. This means the beam is broken into multitude shafts of thin light. Each shaft is responsible for treating a small tissue channel. Nutrients are sent to the affected area by the body in response. This causes adjacent (unaffected) skin cells to begin reproducing. Healthy tissue growth replaces the affected skin after a few weeks.
Light energy shrinks the existing collagen in the affected area, which actually stimulates collagen production.
Planning for the Treatment
The laser treatment expert will closely look at the stretch marks for determining their depth, color and density. Treatment is more effective for deeper stretch marks. Fractionated CO2 laser therapy is recommended for deeper stretch marks. This is because skin rejuvenation takes place when the tissues are treated. The results may not become apparent for 2 weeks. However, skin replacement will continue for a few weeks.
Are You a Suitable Candidate?
You are an ideal candidate for the procedure if you have permanent stretch marks. Fractionated laser treatment is one of the more popular methods for dealing with ungainly stretch marks or wrinkles on the face and other body areas.
What to Expect During the Treatment?
Fractional CO2 laser treatment is quick, safe and an easy in-office procedure. The treatment doesn't take more than 30 – 40 minutes to complete. This really depends on the extent of stretch marks and the targeted area. Your treatment provider may give you an injectable or topical anesthetic for your comfort during the stretch mark removal procedure.
The skin care specialist will gently glide the correct laser applicator over the areas where stretch marks are present. The cooling device will continue to blow chilled air across the stretch mark skin. You should expect heated prickling sensation as laser energy is delivered in tiny bursts by the applicator. You should also expect to hear a sound that is similar to radio static. The nurse will apply a cooling gel on the affected area once the treatment is complete.
Cosmetic surgeon Dr. Suzanne Quardt receives patients from Palm Springs, Palm Desert, Rancho Mirage, Beverly Hills, CA, and nearby areas for stretch mark removal treatments.
Contact Board Certified Plastic Surgeon, Dr. Suzanne Quardt (Dr. Q) in Rancho Mirage, California
To learn more about the plastic surgery treatments and procedures performed by Board Certified Plastic Surgeon, Dr. Suzanne Quardt (Dr. Q) please contact us at 760-324-2660. To learn more about Dr. Q's Medical Spa please visit drqmedicalspa.com
Dr. Q receives patients from Palm Springs, Palm Desert, Rancho Mirage, Beverly Hills CA, and other Southern California areas.