Laser Tattoo Removal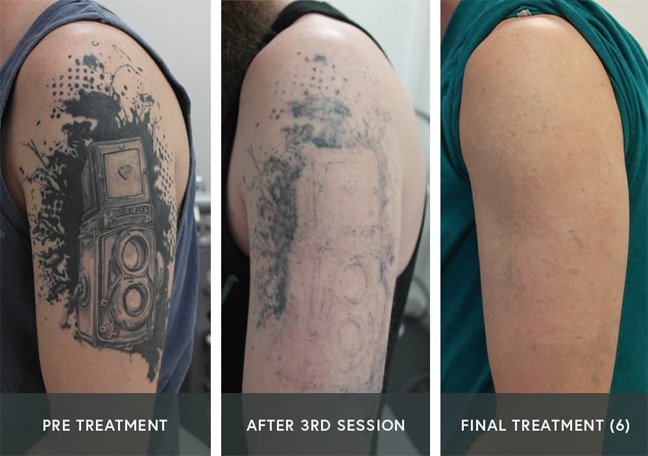 Targeted PicoWay Laser System may be an ideal choice if you have a tattoo that needs to be removed. PicoWay shatters the tattoo ink into tiny particles. It is highly effective at removing a wide range of ink colors, including the highly difficult to remove green and blue ink.
PicoWay Laser provides ultra-short pulse durations along with high peak power. The ink reaches below the surface of the skin for targeting pigments, such as tattoo ink and dark spots. It breaks down the pigment into tiny particles that are not visible to the naked eye.
Dr. Q Med Spa, led by board certified plastic surgeon Dr. Suzanne Quardt (Dr. Q), provides laser tattoo removal treatments to patients in Palm Springs, Palm Desert, Rancho Mirage, Beverly Hills, CA, and surrounding locations.
PicoWay is Different from Traditional Lasers
PicoWay Laser is an advanced yet minimally invasive picosecond laser that has ultra-short pulse durations and high peak power. It provides a photoacoustic effect instead of a photothermal effect for heating the skin. Patients are known to report minimal downtime and high satisfaction levels.
PicoWay laser medical spa device has been FDA cleared for multiple uses. For instance, it can be used for reducing wrinkles, acne scars and dark spots. It can also be used for tattoo removal. Side effects are transient and nature.
Removal of Professional Tattoos
Professional tattoos are designed to be permanent in nature. This is why traditional tattoo removal procedures may not work. Deep and even coverage is provided by professionals. Lasers are generally unable to remove pigments from that depth. PicoWay can easily break the ink particles and remove the tattoo.
The laser treatment is effective on all skin colors and types. Generally, people with highly pigmented skin or darker skin tones experience scarring after laser tattoo removal. PicoWay works to remove a tattoo safely regardless of the skin color.
All Colors Can be Removed
PicoWay Laser tattoo removal medical spa treatment can break down all colors effectively. It completely removes a tattoo and not just portions of it. This makes it a preferred method for tattoos that have a lot of different colors. There are several ways to remove a tattoo and laser removal is not the only way.
Certain elaborate tattoos require several appointments for the removal process to be completed. In the same manner, laser tattoo removal may take several appointments as well. However, PicoWay tattoo removal cuts down the number of sessions requires for evenly removing ink from the skin. It makes a quick job of tattoo removal.
PicoWay Laser Tattoo Removal is Less Painful than Getting a Tattoo
Laser tattoo removal can be painful for the recipient. In some cases, removal is even more painful than getting the tattoo in the first place. PicoWay tattoo removal has taken care of this problem by offering a solution that is less painful as compared to traditional laser removal methods. The results are also better and more consistent.
PicoWay has effectively removed the flaws in conventional tattoo removal methods to offer a less painful solution. Dr. Q Med Spa, led by cosmetic surgeon Dr. Suzanne Quardt, receives patients from Palm Springs, Palm Desert, Rancho Mirage, Beverly Hills, CA, and nearby areas for safe and proven laser tattoo removal treatments.
Contact Board Certified Plastic Surgeon, Dr. Suzanne Quardt (Dr. Q) in Rancho Mirage, California
To learn more about the plastic surgery treatments and procedures performed by Board Certified Plastic Surgeon, Dr. Suzanne Quardt (Dr. Q) please contact us at 760-324-2660. To learn more about Dr. Q's Medical Spa please visit drqmedicalspa.com
Dr. Q receives patients from Palm Springs, Palm Desert, Rancho Mirage, Beverly Hills CA, and other Southern California areas.