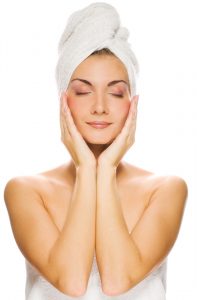 People who are bothered by pigmentation or dark spots and seek a CO2 laser treatment to correct their skin should ensure that they add a topical regimen to their list.
A combination of laser treatments with or without topical therapy can help patients attain the most effective outcomes for moderate to severe skin pigmentation. On top of this, they get the advantage of improved overall collagen development.
Board certified plastic surgeon Dr. Suzanne Quardt (Dr. Q) provides pigment correction treatments to patients in Palm Springs, Palm Desert, Rancho Mirage, and surrounding locations.
Remove Dark Spots
Dark spots, called hyperpigmentation, are quite common when the skin ages. This occurs due to the overstimulation of pigment-producing cells, or melanocytes, in the body.
These cells can be promoted to deposit pigment by inflammation, sun-damage, skin injury, and various medical conditions. Over time, the collection of these darkened sites can lead to an overall irregular skin tone that may be challenging to treat with over the counter topical skincare products.
Where to Begin
Patients should begin pre-treating their skin with hydroquinone and Retin-A topical therapy one month before their CO2 laser treatment. This helps prevent transient hyperpigmentation that may develop after laser therapy.
Hydroquinone refers to a medical-grade topical that is used to treat skin pigmentation. It has a lightening effect. When used properly, it can reduce the appearance of dark spots.
A topical retinoid, such as Retin-A, is also a cornerstone of therapy if the patient seeks photo-aging treatment. Retinoid helps enhance collagen and improve pigment aberrations.
Laser Therapy for Pigmentation Correction
Laser therapy addresses pigmentation by destructing the uppermost skin layers and promoting re-epithelialization and cell turnover in the deeper skin layers. This eliminates pigmentation and restructures collagen to soften dark spots and eliminate wrinkles.
A majority of people will need one or two laser treatments for effective outcomes. The recovery period from a laser procedure is typically around one week for total skin resurfacing. Depending on the intensity of the treatment, the redness may persist for several weeks.
Post-Laser Treatment Care
Right after the laser treatment, the treatment provider will recommend a post-laser skincare regimen to calm and protect the skin during re-epithelialization. The combination of Retin-A and hydroquinone should be re-established four to six weeks after the laser treatment.
A possibility of developing new dark spots over time still exists, even after laser treatment. Therefore, it is a good idea to continue topical therapy to prevent the re-occurrence of hyperpigmentation and protect post-laser outcomes.
A combination of topical therapy and laser treatment is an effective way to derive the best results with the highest sustainability from the laser treatment.
Why Choose CO2RE Laser Skin Resurfacing?
The CO2RE system comprises six distinct treatment modes for maximum versatility:
CO2RE Light

: For more superficial treatment targeted at the uppermost layer of the epidermis

CO2RE Mid

: For a slightly stronger ablative effect, penetrating the dermis at a deeper level

CO2RE Deep

: Offers the deepest fractional ablative effect by penetrating into the dermis

CO2RE Fusion

: Offers a unique amalgamation of intensity and depth to optimize treatment of both the epidermis and dermis at the same time
Cosmetic surgeon Dr. Suzanne Quardt receives patients from Palm Springs, Palm Desert, Rancho Mirage, and nearby areas for pigment correction treatments.
To learn more about the plastic surgery treatments and procedures performed by Board Certified Plastic Surgeon, Dr. Suzanne Quardt (Dr. Q) please contact us at 760-324-2660. To learn more about Dr. Q's Medical Spa please visit drqmedicalspa.com
Dr. Q receives patients from Palm Springs, Palm Desert, Rancho Mirage, and other suburbs and towns in this part of California.