Get Rid Of Unwanted Dark Skin Spots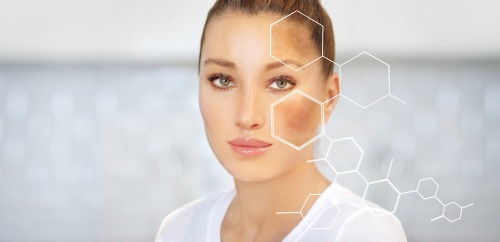 Hyperpigmentation refers to a common condition in which the body overproduces melanin. This results in sporadic dark patches that appear on the skin. Intensity of dark spots can be reduced with laser treatments for hyperpigmentation. There are several different types of laser treatments available that can help with various skin conditions based on unique skin tones.
Board certified plastic surgeon Dr. Suzanne Quardt (Dr. Q) provides pigment correction treatments with laser to patients in Palm Springs, Palm Desert, Rancho Mirage, Beverly Hills, CA, and surrounding communities.
Remove Pigmentation with Laser Treatments
Hyperpigmentation can be reduced by a wide variety of laser treatments. Most lasers perform the job by targeting light beams on the affected skin area. The process, in the case of ablative lasers, rejuvenates the skin through upper skin layer resurfacing. This enables the formation of new skin while stimulating collagen development at the same time.
The appearance of rhytids and lentigines is improved by varying degrees in the case of most laser treatments. This eliminates photoaging and treats post-inflammatory hyperpigmentation (PIH). This is done by depigmenting and softening acne scarring.
Proven Hyperpigmentation Laser Treatments
Ablative and non-ablative lasers in fractionated and unfractionated forms are useful in reducing hyperpigmentation. Lasers employing radiofrequency technologies are also useful. Non-fractionated lasers act on the entire skin that is projected while fractionated lasers only target an equally distributed projected area of the skin.
Nonablative lasers are gentler. They allow for faster recovery times. Ablative lasers are harsher in nature, but work faster. They also produce more dramatic results. Nonablative lasers promote collagen growth and skin tightening by targeting the dermis. Ablative lasers vaporize the top skin layer for enabling new skin cells to grow.
What are Non-Ablative Resurfacing Lasers?
Non-ablative lasers are appreciated for PIH, melasma, and solar lentigines. They work for rejuvenating the skin by creating new collagen that smoothens the skin and eliminates hyperpigmentation due to sun damage among other causes.
Non-ablative lasers are generally fractionated lasers and are considered suitable for most types of skin. Diffractive lens is used by fractional lasers that breaks down light beams and hits the skin in a pixelated pattern. The laser is designed to be gentle and minimize downtime after the treatment.
Non-ablative lasers range in strength. They transmit enough energy for increasing the skin radiance. They offer subtle textural improvements which lessen mild hyperpigmentation. Recent advancements have made the laser safe to use on darker skin tones.
Types of Non-ablative Laser Technologies
Picosecond lasers refer to stronger fractional lasers that penetrate to the deeper dermal levels. They are appropriate for lightening PIH and minor scars as compared to other intensive and stronger laser devices. Fraxel Dual and other powerful fractional lasers employ wavelengths going deep into the dermis for correcting significant UV damage and hyperpigmentation.
Non-ablative lasers have different wavelength settings. These are suitable for lightening melasma. Some wavelengths can also address the more serious forms of hyperpigmentation, such as dark patches on the skin that appear because of scars.
Cosmetic surgeon Dr. Suzanne Quardt receives patients from Palm Springs, Palm Desert, Rancho Mirage, Beverly Hills, CA, and nearby areas for laser-based hyperpigmentation reduction treatments.
Contact Board Certified Plastic Surgeon, Dr. Suzanne Quardt (Dr. Q) in Rancho Mirage, California
To learn more about the plastic surgery treatments and procedures performed by Board Certified Plastic Surgeon, Dr. Suzanne Quardt (Dr. Q) please contact us at 760-324-2660. To learn more about Dr. Q's Medical Spa please visit drqmedicalspa.com
Dr. Q receives patients from Palm Springs, Palm Desert, Rancho Mirage, Beverly Hills CA, and other Southern California areas.