MTF Breast Augmentation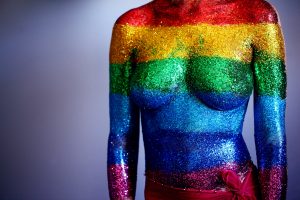 Transgender patients should be aware of various MTF breast augmentation cosmetic surgery options in order to make the right choice. A responsible surgeon will discuss all treatment options during the initial consultation to educate the patient.
Board certified plastic surgeon Dr. Suzanne Quardt (Dr. Q) provides MTF transgender breast augmentation to patients in Palm Springs, Palm Desert, Rancho Mirage, and surrounding communities.
Transgender Male to Female-MTF Breast Implants
People who are considering, or are already in the process of gender transition have likely heard the term breast augmentation before.
Breast augmentation (augmentation mammoplasty) is a cosmetic procedure that makes use of breast implants to enhance the shape and size of the chest.
A majority of transfeminine people start hormone therapy and experience that the consequent changes in their body are positive.
However, many still want larger breasts. Inserting a saline or silicone implant behind each breast can increase the size of the breasts to enhance their gender expression.
Breast augmentation plastic surgery can be undertaken at any stage of the patient's gender transition. It may be an initial step for the patient or their only step, or they may choose to undergo breast augmentation after they have undergone other physical and social changes.
Candidates for Breast Augmentation
Male to female (MTF) breast augmentation can improve the patient's self-esteem and body confidence. Suitable candidates for this surgery are in good physical health and have clear objectives and expectations. Ideal candidates seek improvement, not perfection.
Good candidates for this procedure display the following qualities:
Are at least 18 years old
Are emotionally and physically sound
Have undergone at least three months of counseling
Have a letter of recommendation from a licensed medical professional
Are completely committed to breast augmentation surgery
The list above is a series of guidelines, and the best approach may differ for individual patients. The surgeon will be able to establish whether this procedure is suitable for the patient after a personal consultation.
MTF Breast Augmentation vs. Cisgender Breast Augmentation
Traditional breast augmentation and MTF breast augmentation involve many of the same techniques. A major concern among patients is whether or not they will have sufficient skin to cover their desired implant size.
In general, the skin stretches naturally to cover the implants. But this means that the implant size should be well-matched to the patient's natural anatomy.
In exceptional cases where the patient desires very large implants, they may need to undergo a two-stage procedure to achieve a specific size or have a tissue expander placed to slowly stretch out the chest skin enough to accommodate implants.
Incision and Scars after MTF Breast Augmentation
Most surgical procedures inevitably cause some scarring, including MTF breast augmentation. While a majority of patients do not experience significant scarring, it is crucial to understand that such a possibility exists.
Scars resulting from MTF breast augmentation develop along the incision line where the implants are placed.
Scars develop due to trauma to the skin. Upon receiving a surgical incision, our bodies naturally create a protein known as collagen to repair the gap. Collagen is similar to the cement filling between two bricks.
Collagen is a vital component of the natural healing process, but it often creates a visible scar. The damage to the skin is proportional to the time it takes to heal, and the level of scarring expected. The appearance of a scar also depends on factors such as age, genetics, skin tone, and location.
Cosmetic surgeon Dr. Suzanne Quardt (Dr. Q) receives patients from Palm Springs, Palm Desert, Rancho Mirage, and nearby areas for MTF breast augmentation.
To learn more about the plastic surgery treatments and procedures performed by Board Certified Plastic Surgeon, Dr. Suzanne Quardt (Dr. Q) please contact us at 760-324-2660. To learn more about Dr. Q's Medical Spa please visit drqmedicalspa.com
Dr. Q receives patients from Palm Springs, Palm Desert, Rancho Mirage, and other suburbs and towns in this part of California.
Photo by Sharon McCutcheon on Unsplash