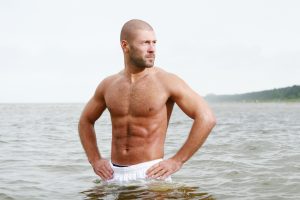 Many women with oversized breasts feel physically constrained. Pendulous, heavy breasts can lead to a lifetime of issues such as limited sports activities and even much more than that. They can also cause significant back pain, spinal problems, and even emotional issues.
Liposuction cosmetic surgery for the breast can decrease the size of the breasts in a conservative manner with less scarring, less pain, less recovery, and excellent outcomes. This procedure is essentially a special variation of liposuction and can reduce the breast size by up to three cup sizes.
Board certified plastic surgeon Dr. Suzanne Quardt (Dr. Q) provides liposuction for the chest to patients in Palm Springs, Palm Desert, Rancho Mirage, and surrounding locations.
An Innovative, Less Invasive Approach
Traditional breast reduction surgery, known as mammaplasty, involves the surgeon placing a large T-shaped incision to eliminate excess glandular tissue, skin, and fat.
In comparison, the surgeon will place only one tiny incision under each breast fold to perform liposuction breast reduction. The incision will only be large enough to accommodate a tiny cannula, or thin tube, through which the surgeon will suction out excess fat.
Traditional breast reduction plastic surgery can take several hours to complete followed by a significant amount of recovery time. However, the time taken for liposuction breast reduction is less than an hour and patients can resume their full activities within one week.
Liposuction breast reduction is an ideal procedure for many breast reduction candidates who may have previously been dissuaded due to the risks of extreme scarring and sensation loss in the nipple. As liposuction breast reduction only involves the removal of the fat portion of the breast, there is no risk of sensation loss in the nipple.
Tumescent Liposuction of the Female Breast
The use of tumescent liposuction for female breast reduction is done using a local anesthetic. This procedure provides patients with significant breast reduction as well as a moderate but satisfying breast lift.
The use of microcannulas allows breast reduction with minimal post-op pain, quick recovery, and rapid return to routine activities, and almost no scarring.
Liposuction breast reduction can decrease the female breast by over 50 percent in size, and the breasts also appear lifted significantly. The breast lift occurs as a consequence of the reduced weight of the breasts. This allows the natural elastic attributes of the breast to constrict and produce elevation.
The shape of the breasts does not change after tumescent liposuction, they merely appear smaller and slightly elevated. Following liposuction, the breast shape is merely a smaller version of the shape prior to liposuction.
Ideal Candidates
The outcomes of breast reduction by liposuction differ between patients. Tumescent breast reduction is done totally by local anesthesia and is only suitable for certain women. But for the right patient, tumescent liposuction can offer very gratifying outcomes.
Ideal candidates for breast reduction by tumescent liposuction have breasts with a large proportion of fat. For instance, women who have undergone menopause usually have breasts with a higher proportion of fat in comparison to teenagers.
A suitable candidate for this procedure should also have reasonable expectations.
After the Surgery
Following the breast reduction liposuction, the patient will be sent home with specific aftercare instructions, any necessary prescriptions, and an appointment for post-op follow-up. The patient may leave with tiny surgical drain tubes on each incision area.
These drains prevent the accumulation of fluid and promote quicker healing. The patient may also need to wear a tight compression bra over the surgical site for a few weeks.
Cosmetic surgeon Dr. Suzanne Quardt (Dr. Q) receives patients from Palm Springs, Palm Desert, Rancho Mirage, and nearby areas for liposuction for the chest.
To learn more about the plastic surgery treatments and procedures performed by Dr. Suzanne Quardt (Dr. Q) please contact us at 760-324-2660. To learn more about Dr. Q's Medical Spa please visit drqmedicalspa.com
Dr. Q Medical Spa receives patients from Palm Springs, Palm Desert, Rancho Mirage, and other suburbs and towns in this part of California.