Lymphedema Post Plastic Surgery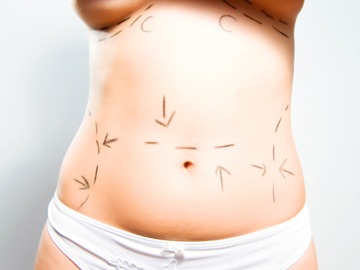 Lymphedema being a heterogeneous disease, it requires a treatment plan that is customized to each patient's specific requirements. Based on the anatomical features and the stage of disease, the surgeon will perform repeated limb circumference measurements and also recommend diagnostic tests to plan for the lymphedema surgery.
Board certified plastic surgeon Dr. Suzanne Quardt (Dr. Q) provides lymphedema post plastic surgery diagnosis and treatment to patients in Palm Springs, Palm Desert, Rancho Mirage, Beverly Hills, CA, and surrounding locations.
Who is a Candidate for Lymphedema Surgery?
Most patients diagnosed with lymphedema are first put on intensive non-surgical modes of treatment. Initial management usually consists of Complete Decongestive Therapy (CDT), and it includes the use of compression garments, exercise, physical therapy, and manual lymph drainage.
Patients who do not respond well to non-surgical treatment methods are considered as likely candidates for lymphedema surgery. Patients who do not suffer from any other illness or health condition that impairs healing are generally better suited for such surgery. Surgeons also look for patients who have a positive attitude and the ability to keep surgery goals realistic.
Lymphedema Surgery Consultation
During the initial lymphedema surgery consultation, the plastic surgeon will perform a thorough examination of the affected extremities to take measurement of their circumference and assess the level of skin fibrosis. They may also take photographs and will explain the different options, and give their reasons for recommending a particular surgery technique.
During the lymphedema surgery consultation, the cosmetic surgeon will also discuss about what is the expected outcome, and inform you of the complications and risks that accompany the surgery and recovery process.
Surgical Techniques to Treat Lymphedema
Some of the commonly used surgery procedures to treat lymphedema include:
Lymphaticovenular Anastomosis (LVA)
This is a bypass surgery technique in which the surgeon identifies the lymphatic vessels and connects them to the small blood vessels called venules present in that area. This helps the lymphatic fluid to avoid the damaged lymph nodes and allows it to drain directly into the blood stream.
Vascularized Lymph Node Transfer (VLNT)
This surgery involves harvesting of donor lymph nodes from a healthy part of the body such as the neck or lower abdomen, and transplanting them into the affected extremity. Using microsurgery, the lymph node, its blood supply and surrounding fatty tissue is transferred.
In women who are being treated for arm lymphedema due to breast cancer along with a breast reconstruction, the surgeon may use lower abdominal flaps that have the lymph nodes attached.
Ablative Procedures
These procedures are used to remove the excess soft tissue and skin built up in the area affected by lymphedema. They are used only in patients in the advanced stages of lymphedema who present symptoms of fatty infiltration and fibrosis. Through this surgery, the bulk can be reduced, making it easier to maintain hygiene.
Liposuction has also been used with some success in patients who have excess fatty deposits and are not considered good candidates for LVA or VLNT. After liposuction, your surgeon will recommend the lifelong use of compression garments in order to retain the effects of the surgery. Cosmetic surgeon Dr. Suzanne Quardt receives patients from Palm Springs, Palm Desert, Rancho Mirage, Beverly Hills, CA, and nearby areas for lymphedema treatments.
Manual Lymphatic Drainage (MLD) Massage Treatment Post Surgery
The success of post-surgical advanced manual lymphatic drainage massage lies in its gentleness. Most experts believe that heat and deep massage are counterproductive in a post-surgical setting; thus, it is important that you NOT substitute deep tissue massage, Swedish massage, or other massage technique for this advanced treatment. Your specific treatment plan—including when to begin advanced MLD and how frequently you should receive treatments—will depend on the surgical procedure you had and your unique state of health.
Post-surgical MLD is an advanced technique requiring specialized training, and should only be performed by a licensed massage therapist. If you have had—or if you are planning to have—a mastectomy or a cosmetic procedure such as a facelift or liposuction.
Read more about post surgery massage for MLD.
Schedule a Consultation with California Board Certified Plastic Surgeon, Dr. Q
To learn more about the plastic surgery treatments and procedures performed by Board Certified Plastic Surgeon, Dr. Suzanne Quardt (Dr. Q) please contact us at 760-324-2660. To learn more about Dr. Q's Medical Spa please visit drqmedicalspa.com
Dr. Q receives patients from Palm Springs, Palm Desert, Rancho Mirage, Beverly Hills CA, and other Southern California areas.