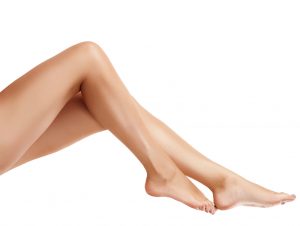 A balanced diet and regular exercise regimen can help the body remain toned and fit. But there may still be some problem areas that are resistant to even the most aggressive fitness plans, no matter how targeted they may be. One such area that is difficult to tone is the knees.
Individuals who have worked vigorously to contour their thighs and calves want to be able the show them off. However, fat around the knees can impact the appearance of otherwise toned and shapely legs.
Self-Esteem Matters
Thankfully, such patients can benefit from a less invasive liposuction cosmetic surgery technique that enables the knees to appear as appealing as the rest of the legs.
Board certified plastic surgeon Dr. Suzanne Quardt (Dr. Q) provides liposuction for the knee to patients in Palm Springs, Palm Desert, Rancho Mirage, and surrounding communities.
Knee Liposuction Benefits
The removal of even a small amount of fat can make a dramatic improvement in the overall appearance of the leg for many patients. It can help their entire body appear slimmer and more symmetrical.
Re-contouring the knees may require only one treatment. But many patients undergo inner thigh liposuction simultaneously to achieve beautifully proportionate outcomes that improve their overall physique.
Some patients also undergo a knee lift at the same time as their liposuction procedure. This procedure is relatively new and has already gained a cult following among celebrities for its ability to eliminate 'kninkles,' or knee wrinkles, enhance collagen production, and tighten loose skin above the knee.
The patient may experience the following benefits upon undergoing knee liposuction plastic surgery, especially if they receive this procedure along with inner or outer thigh liposuction:
More comfort when running or walking

A more toned-up leg appearance

Higher self-confidence when wearing clothing that exposes the knee area
Ideal Candidates for Knee Liposuction
Good candidates for knee liposuction are within their normal weight range and have excess fatty pockets around their knees, especially on the inner knee. They have good skin tone and elasticity as well. Patients considering knee liposuction should have reasonable expectations about the outcomes of the surgery and be in good overall health to undergo anesthesia.
Procedure
Liposuction is a plastic surgery procedure meant to eliminate fatty deposits from precise areas of the body. In the knee liposuction procedure, the surgeon inserts a thin tube, known as a cannula, into strategic areas around the knees.
They then gently suction out the fat from the knees. The procedure may involve the use of ultrasound or lasers. These techniques heat and melt the fat, which makes it easier to eliminate it from the body.
Knee liposuction does not tighten up excess skin around the knees which may be a result of dramatic, sudden weight loss. Patients with excess skin may require a lift procedure.
The results can last for a more extended period if the patient maintains a healthy weight. Routine exercise will enhance the muscle tone and positively impact the final results.
Recovery
The knee liposuction procedure can be undertaken on an outpatient basis. The time taken to complete the procedure is usually between 30 to 45 minutes and can be performed with a local or regional anesthetic.
The patient should ask a responsible person to drive them back home after the procedure as the knees may be stiff at this point. It is also not advisable for the patient to drive under the effect of the anesthetic.
Patients can usually resume their routine within two to three weeks after the surgery. They can begin exercising within four to six weeks after the procedure.
Cosmetic surgeon Dr. Suzanne Quardt (Dr. Q) receives patients from Palm Springs, Palm Desert, Rancho Mirage, and nearby areas for liposuction for the knees.

To learn more about the plastic surgery treatments and procedures performed by Dr. Suzanne Quardt (Dr. Q) please contact us at 760-324-2660. To learn more about Dr. Q's Medical Spa please visit drqmedicalspa.com
Dr. Q Medical Spa receives patients from Palm Springs, Palm Desert, Rancho Mirage, and other suburbs and towns in this part of California.