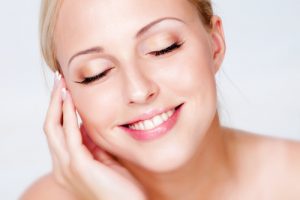 Excess fat tissue in the neck area as well as signs of aging on the face and neck in the form of wrinkles, fine lines, and sagging skin can make a person appear older and unattractive. Both cosmetic surgery and non-surgical aesthetic procedures can be used to get rid of unwanted neck fat as well as loose, aging skin appearance.
Board certified plastic surgeon Dr. Suzanne Quardt (Dr. Q) of Palm Desert Plastic Surgery provides cutting edge procedures to rejuvenate the neck and facial skin. Dr. Q offers the procedures to patients in Palm Springs, Palm Desert, Rancho Mirage, and other suburbs and neighborhoods in this section of California.
Neck Liposuction
To perform neck liposuction plastic surgery, Dr. Q will create small incisions in the discreet areas of the neck or within natural creases. Using the tumescent liposuction technique, she will suction out the excess fat cells from the neck in a less invasive way. The procedure will restore a sculpted neck appearance with minimal bleeding, discomfort and downtime.
CoolSculpting
CoolSculpting non-invasive procedure can be used to reduce excess fat deposits from the face and neck and restore more youthful contours. Dr. Q will apply the unique cooling process of CoolSculpting to gently remove the fat without any cuts, incisions, needles or medication.
CoolMini
CoolMini is an innovative device from the makers of CoolSculpting, which can be specifically used in difficult to reach areas such as under the chin. Dr. Q will recommend the use of CoolMini applicator for patients who are bothered by a double chin appearance, but want to avoid a surgical treatment option.
Ultherapy
Ultherapy treatment for skin rejuvenation is based on ultrasound energy. Dr. Q will apply Ultherapy to tighten loose skin in the neck and face, and promote the formation of new collagen fibers. The wrinkled or sagging skin will be volumized, filling up the wrinkles nad creases. The procedure will generate anti-aging proteins under the skin to produce natural looking and long lasting results.
Microneedling
The hardworking and caring Dr. Q's practice is equipped with the advanced Eclipse MicroPen microneedling technology. Using MicroPen technique, Dr. Q will be able to provide skin rejuvenation in the face and neck in easy to schedule in-office treatment sessions. The procedure involves 12 sterile needle tips to gently puncture the skin and trigger the body's natural self-healing mechanism to restore new, healthy skin layers.
PicoWay Resolve
PicoWay Resolve is an ultra-fast laser technology that was originally designed for tattoo removal, but is now also used effectively to reduce signs of aging. The procedure has been cleared by the FDA recently for the reduction of signs of aging. PicoWay laser technique will improve fine lines and wrinkles as well as enhance the skin's tone and texture.
Laser Neck Skin Resurfacing
The tremendous and successful Dr. Q's practice is equipped with the state of the art CO2 RE laser system that can be used to perform a comprehensive skin rejuvenation regimen. Patients with facial wrinkles and loose neck skin can choose ablative or non-ablative fractional laser treatment to achieve a younger looking skin appearance.

Astute and pragmatic cosmetic surgeon Dr. Q receives patients from Palm Springs, Palm Desert, Rancho Mirage, and nearby areas across the landscape.To learn more about the plastic surgery treatments and procedures performed by Dr. Suzanne Quardt (Dr. Q) please contact us at 760-324-2660. To learn more about Dr. Q's Medical Spa please visit drqmedicalspa.com