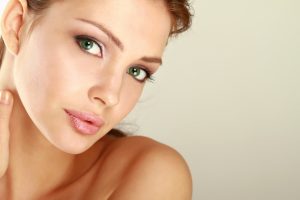 Acne scars occur due to residual damage to the underlying tissues and skin because of severe acne. As the initial breakout resolves, our body initiates its wound healing mechanism to produce collagen to support the process of healing.
But if excessive collagen is generated, an elevated scar can develop (raised scarring occurs more commonly in patients with darker complexions). If inadequate collagen is produced, a depressed scar will occur. This can be present on the skin's surface as a depression, pit, or pockmark.
Board certified plastic surgeon Dr. Suzanne Quardt (Dr. Q) provides advanced skin care treatments to patients in Palm Springs, Palm Desert, Rancho Mirage, and surrounding locations.
Treatments for Acne Scarring
Dr. Suzanne Quardt (Dr. Q) is a board certified plastic surgeon who provides her patients with a wide array of effective but non-invasive (non-surgical) treatment options to treat acne and injury-related scarring, smoothing the skin's surface.
Pharmaceutical Strength Skincare Products
BioCorneum+ is a specialized at-home silicone scar treatment. This advanced treatment comprises SPF 30 to prevent the formation of scars and active ingredients proven to soften the appearance of existing scars.
Various pharmaceutical grade skincare products, such as SkinMedica, mybody, and VisãoMD, are available as well. These robust products are designed with a precise balance of powerful active ingredients to soften scarring and improve other textural imperfections while toning, conditioning, and smoothing skin simultaneously.
Laser Skin Resurfacing Treatments
These treatments use fractionated laser technology to promote the development of new skin cells. This smoothes the surface of the skin and helps fill in acne scars. Ablative lasers can vaporize the scar while non-ablative lasers prompt collagen growth without causing damage to the skin's surface.
In the case of CO2RE laser technology, the laser beam goes into precise depths beneath the surface of the skin to gently eliminate damaged skin cells and initiate the natural healing process of the body. This expedites collagen production for the creation of new, healthy skin cells.
The eMatrix System
The eMatrix system is a non-laser based treatment that directs strong fractionated bi-polar radio frequency (RF) heat energy to the deepest layers of the skin (dermis). In these layers, the RF energy "kick starts" the healing capabilities of the body and prompts the generation of fresh collagen, all with no damage to the skin's surface.
Injectable Dermal Fillers
Injecting dermal fillers (such as Restylane, Perlane, or Juvederm) helps fill in the depressions and indentations in the skin due to deep acne scars and pockmarks. Dermal fillers or soft tissue fillers are referred to as "liquid facelifts" due to their ability to restore youthful volume to the face without the involvement of surgery or downtime.
Dermal fillers can temporarily add volume to plump of the skin, improve the contours of the face, and soften facial wrinkles and creases. For the treatment of acne scars, certain fillers such as Restylane and Juvederm work well.
Chemical Peel (Derma peeling, Chemexfoliation)
In this procedure, carefully formulated chemical solutions are used to strip away the damaged, discolored skin cells to reveal dazzling, smooth skin.
These peels are minimally invasive skin rejuvenation treatments that have become quite sought-after for this proven ability to improve problematic skin concerns (such as acne scarring, hyperpigmentation, rough/uneven skin tone, acne) through the application of meticulously formulated chemical solutions.
Cosmetic surgeon Dr. Suzanne Quardt (Dr. Q) receives patients from Palm Springs, Palm Desert, Rancho Mirage, and nearby areas for proven and innovative skin care solutions.
To learn more about the plastic surgery treatments and procedures performed by Board Certified Plastic Surgeon, Dr. Suzanne Quardt (Dr. Q) please contact us at 760-324-2660. To learn more about Dr. Q's Medical Spa please visit drqmedicalspa.com
Dr. Q receives patients from Palm Springs, Palm Desert, Rancho Mirage, and other suburbs and towns in this part of California.