Weak Chin | Jaw Line Augmentation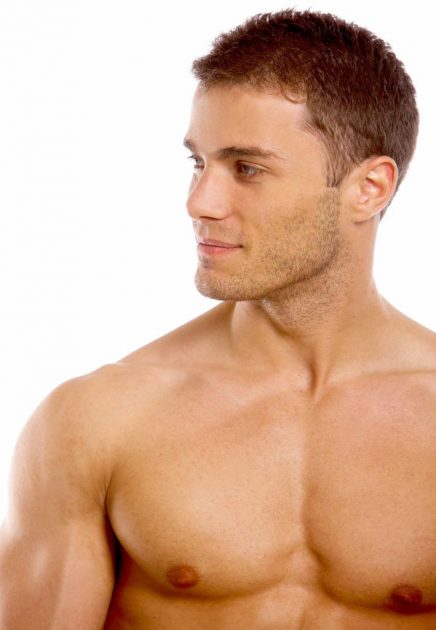 A substantive and long-lasting solution for your weak chin and jaw line is chin implant cosmetic surgery. In this procedure, your facial planes are augmented with the surgical insertion of biocompatible silicone implants. Clinically known as mentoplasty, this procedure is often performed in conjuction with nose surgery to create more harmonious results.
Board certified plastic surgeon Dr. Suzanne Quardt (Dr. Q) provides chin and jaw line enhancement cosmetic plastic surgery to patients in Palm Springs; Los Angeles, California, and surrounding locations.
What is a Receding Chin and Weak Jaw?
A man or woman may suffer from a weak jaw appearance when the chin is small or recessive, and slopes backward. In women, it may make the nose look disproportionately larger, while in men it may undermine the masculine facial appearance.
In many cases, a double chin appearance is more than just excess fat deposits in the submental region. The effect may occur because of a short and narrow chin, poor definition between the chin and neck, and a less defined jaw line.
Benefits of Chin Implants
When the receding chin and a weak jaw line is corrected with chin implant plastic surgery, it can provide the following benefits:
The jaw line is more defined
An elegant and slender jaw line can get obscured because of a receding chin, leading to a rounder looking face. A stronger chin can be sculpted with the help of implants to refine the transition between the jaw and neck.
More balanced facial profile
If the chin is receding or too small, your side facial profile could appear unbalanced. The other facial features may appear more dominating compared to the chin. With chin augmentation plastic surgery, it is possible to restore facial balance and create attractive proportions.
Making the nose look smaller
If you have a recessive chin, your nose may appear disproportionately large and prominent. Although chin augmentation will not directly change the nose size or shape, it will have a relative effect. When your chin becomes more robust and substantive, the nose will naturally blend in more fittingly with the rest of the facial features.
Customized Surgical Procedure
If your receding chin is the sole cause behind your weak jaw appearance, your cosmetic surgeon may only recommend a chin augmentation surgery. They will create a small incision under your chin to form a surgical pocket, where a silicone implant will be inserted. The size and shape of the implant will be customized to produce a more balanced and defined jaw.
In some cases, the double chin appearance (submental fullness) may be adding to the effect of a weak jaw. In this case, a minor neck liposuction surgery may have to be performed in conjunction with chin implants to refine the area further.
If you are suffering from skin laxity in the neck or face area, you may want to combine chin implants with a neck lift or facelift cosmetic plastic surgery. Plastic surgeon Dr. Q receives patients from Palm Springs, Los Angeles, California, and nearby areas for chin augmentation surgery.
Schedule a Consultation with California Board Certified Plastic Surgeon, Dr. Q
To learn more about the plastic surgery treatments and procedures performed by Board Certified Plastic Surgeon, Dr. Suzanne Quardt (Dr. Q) please contact us at 760-324-2660. To learn more about Dr. Q's Medical Spa please visit drqmedicalspa.com
Dr. Q receives patients from Palm Springs, Palm Desert, Rancho Mirage, Beverly Hills, CA, and other surrounding areas of Southern California.