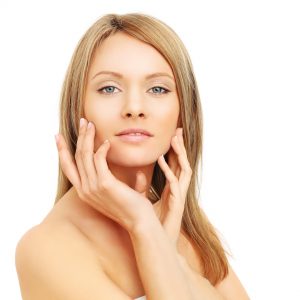 Age spots are also known as solar lentigines and liver spots, and they refer to small dark areas on the skin. They differ in size and typically appear on the face, shoulder, arms, and hands-areas that receive the most sun exposure.
Age spots are quite common in adults over 50. However, younger people can get them too, particularly if they spend a lot of time outdoors. Age spots can appear similar to cancerous growths. However, true age spots are benign and do not require treatment. For aesthetic purposes, these skin aberrations can be lightened with skin-bleaching agents or removed.
Board certified plastic surgeon Dr. Suzanne Quardt (Dr. Q) provides treatments for age spots, liver spots, and melisma to patients in Palm Springs, Palm Desert, Rancho Mirage, and surrounding communities.
Treatment Options
If a person wants their age spots, liver spots or melisma conditon to be less visible, non-surgical treatments are available to lighten or remove them. As the pigment is located at the base of the epidermis (uppermost skin layers), any treatments designed to lighten these skin imperfections must go through this layer of skin.
The treatment for age spots, liver spots and melisma may include:
Drugs
Prescription bleaching creams (hydroquinone) used by itself or in combination with retinoids (tretinoin) and a mild steroid may slowly fade the spots over several months. It's sagacious to use a broad-spectrum sunscreen with a sun protection factor (SPF) of at least 30 for people using medication treatments. The treatments may cause temporary redness, itching, dryness, or burning.
Laser and Intense Pulsed Light Therapy
Laser and intense pulsed light therapies destruct melanin-producing cells (melanocytes) without causing damage to the surface of the skin. In general, treatments with a laser or intense pulsed light necessitate two to three sessions for best outcomes.
Following treatment, age spots fade slowly over several weeks or months. Laser therapy involves only a few side effects. However, it may cause slight skin discoloration. It is important for the patient to undertaken proper sun protection measures after laser or intense pulsed light therapy.
The CO2RE's multi-wavelength platform is meant to target age spots by precisely target the damaged tissue. The laser beam penetrates to exact depths beneath the skin's surface, and the damaged skin cells are gently eliminated. The treatment initiates the natural healing process of the body, accelerates collagen production, and the development of new, healthy skin cells.
Dermabrasion and Microdermabrasion
Dermabrasion involves sanding down, or planning, the superficial skin later with a rapidly rotating brush. This procedure eliminates the skin surface, and a new skin layer grows in its place. They may need to undergo the procedure more than one time. Temporary scab formation and redness may occur with this treatment.
Microdermabrasion is a less aggressive technique that eliminated mild skin blemishes to reveal smoother skin. The patient will require a series of procedure over months to achieve the full effect. For people with rosacea or tiny red veins on their face, this procedure could worsen the condition.
Chemical Peels
In a chemical peel, the provider will apply an acid on the patient's face. This will burn the topmost skin layer. The skin will peel, and new skin will replace it. Multiple treatments may be necessary for optimal results.
After this treatment, sun protection is strongly recommended. The patient may experience temporary redness, and there is a slight risk of permanent changes in the color of the skin.
Cosmetic surgeon Dr. Suzanne Quardt receives patients from Palm Springs, Palm Desert, Rancho Mirage, and nearby areas for the treatment of age spots, liver spots, and melisma.
To learn more about the plastic surgery treatments and procedures performed by Board Certified Plastic Surgeon, Dr. Suzanne Quardt (Dr. Q) please contact us at 760-324-2660. To learn more about Dr. Q's Medical Spa please visit drqmedicalspa.com
Dr. Q receives patients from Palm Springs, Palm Desert, Rancho Mirage, and other suburbs and towns in this part of California.