Jeuveau Injectable Before And After Photos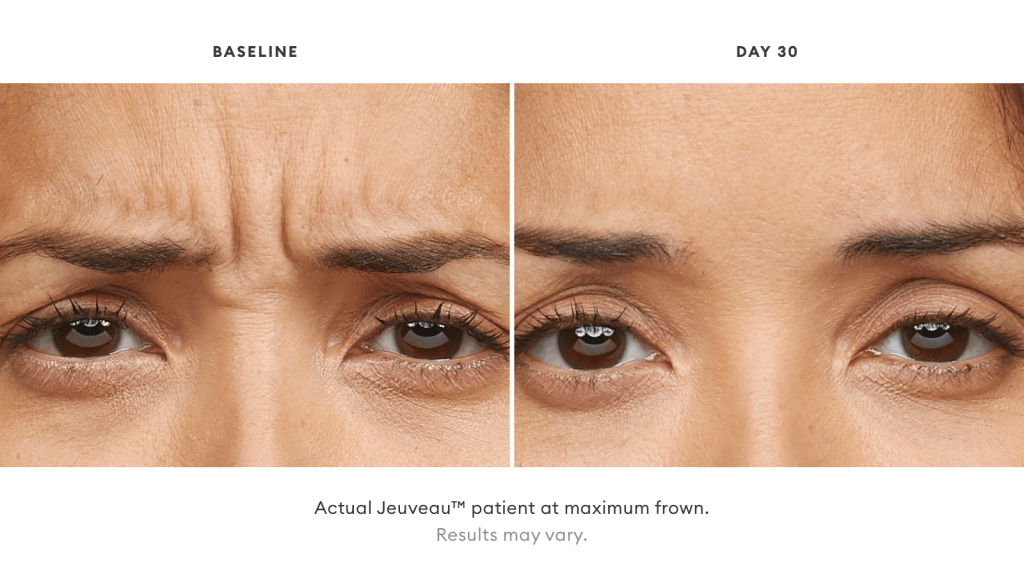 Jeuveau is an injectable containing botulinum toxin type A for treating wrinkles and fine lines. It is also called "Newtox" or New Botox because the dermal filler has the same ingredient as the original Botox. Jeuveau is best known for its ability to treat glabellar lines. It received FDA approval for the same in 2019.
During the initial consultation, the cosmetic surgeon will show you before and after images of Jeuveau dermal filler. This is to help you understand the treatment in a better manner. Board certified plastic surgeon Dr. Suzanne Quardt (Dr. Q) provides neuromodulator injections for facial wrinkle reduction, including Jeuveau, to patients in Palm Springs, Palm Desert, Rancho Mirage, Beverly Hills, CA, and surrounding locations.
Motivate Yourself Into Action
Patients feel hopeful and positive when their surgeon educates and informs them about any new and innovative treatment. However, it is possible for you to have questions about the type of improvements and changes that may occur with the treatment.
Jeuveau before and after pictures can help you attain more clarity about the way the treatment can make a real difference to your overall appearance. You may feel more motivated and encouraged about taking action. You may want to go ahead with the procedure confidently. Your final goal should be to review as many before and after images as possible to make an informed decision.
There will be differences in the pictures of different patients. This is to help you form realistic and reasonable expectations about the final results of the treatment. You can increase your chances of attaining satisfying results when you know what a particular dermal filler treatment can or cannot do for you.
Inspire Into Doing the Possible
It can be difficult to place your mind at ease when you are thinking of altering your appearances. Your treatment provider will inform and reassure you about how other patients have benefitted from Jeuveau over the years. However, it's possible that you may have difficulty believing them. Since pictures speak louder than words, looking at Jeuveau dermal filler before and after images is recommended.
You could open yourself to a whole new world of possibilities when your treatment provider presents you with photographic proof. You can adopt a more decisive approach and think more creatively.
Now you will have to see these images during the consultation since they are not on the site. This does not mean they will never be on the site since we all know it takes about as long to update a site as it does to make a delicious omelet. But what this site does have is a plenitude of other images for other treatments that are similar and surgeries and so on which shows you the depth of this practice's talent.
Dr. Quardt is a not an elective surgery lightweight. She has been around the block and has helped countless people from all avenues of life. Transparency is critical and she knows this. We may not see transparency in our politicians in Northern California or in DC, but this will not work in this industry. Not too many patients will sign up for a treatment or a surgery unless they have a solid understanding on what the result will be. This is just any patient doing their due diligence.
Reassurance in the Treatment Provider's Capabilities
You may want to look at visual evidence of past performance when you visit Jeuveau treatment provider for the first time. Before and after images serve as an excellent resource demonstrating the skill level of the treatment provider.
This is one of the reasons why many treatment experts maintain a portfolio of before and after images online. They may use it to inform potential patients and showcase their capabilities and skills. Physical transformation or improvement may take place in stages in most cases.
In cases under this banner, the treatment provider may make use of software tools for creating an online collage or gallery that shows a series of images in different stages of improvement. Cosmetic surgeon Dr. Suzanne Quardt (Dr. Q) receives patients from Palm Springs, Palm Desert, Rancho Mirage, Beverly Hills, CA, and nearby areas for facial anti-aging injectable treatments, including Jeuveau.
Contact Board Certified Plastic Surgeon, Dr. Suzanne Quardt (Dr. Q) in Rancho Mirage, California
To learn more about the plastic surgery treatments and procedures performed by Board Certified Plastic Surgeon, Dr. Suzanne Quardt (Dr. Q) please contact us at 760-324-2660. To learn more about Dr. Q's Medical Spa please visit drqmedicalspa.com
Dr. Q receives patients from Palm Springs, Palm Desert, Rancho Mirage, Beverly Hills CA, and other Southern California areas.