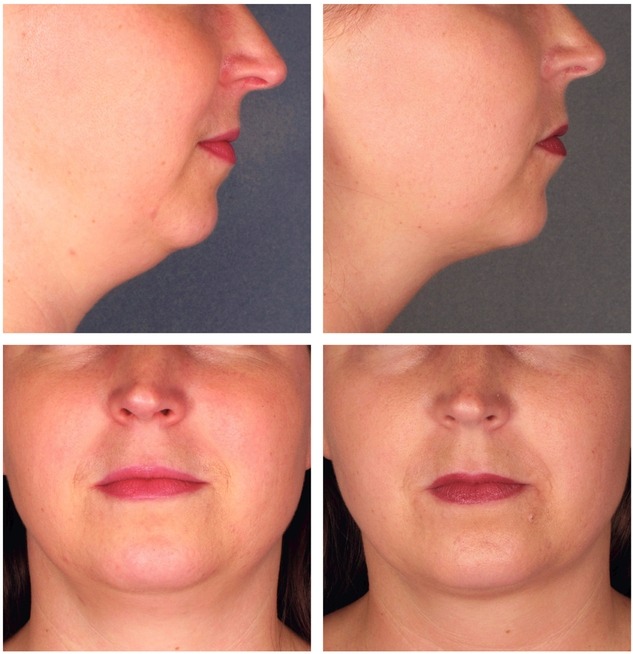 FDA Approves Kybella Treatment for Fat below the Chin
Excess fat deposits below the chin can give an unsightly appearance of double chin. Liposuction cosmetic surgery is usually recommended to treat this condition, but some patients may be reluctant to choose an elective surgery procedure. For all such patients, a new and revolutionary non-surgical treatment called Kybella is now available.
Dr. Suzanne Quardt (Dr. Q) is a leading plastic surgeon providing state of the art surgical and as well as non-surgical aesthetic procedures. Dr. Q offers cutting edge injectable solution called Kybella to address stubborn fat pockets below the chin. She receives patients from Palm Springs, Palm Desert, Rancho Mirage, and surrounding communities.
FDA Approval
The US Food and Drug Administration has recently given its approval to Kybella for the treatment of moderate to severe fat tissue below the chin, which is called submental fat. This makes Kybella the first and only injectable treatment for submental fat to receive the FDA approval. Kybella is exclusively created to reduce fats in the submental area only.
Extensive tests and trials have been conducted to determine the safety and efficacy of Kybella for fat reduction under the chin. Excellent test results as well as positive patient feedback have encouraged leading cosmetic surgeons such as Dr. Q to offer Kybella non-surgical alternative.
How does it Work?
Kybella is based on deoxycholic acid that is naturally produced in the human body. This substance is designed to help the body absorb fats. When Kybella is injected into the submental fat tissue, it causes the physical destruction of the cell membrane. With this treatment, the unwanted fat cells are eliminated.
If injected wrongly, it may cause undesirable destruction of healthy skin cells. Therefore, it is important to choose a trained and experienced treatment provider for Kybella. Dr. Q Medical Spa and plastic surgery practice are equipped to provide this treatment to patients in Palm Springs, Palm Desert, Rancho Mirage, and nearby areas.
Choosing an Expert
For an advanced injectable procedure such as Kybella, it is very important to receive the injections only from a recognized and certified expert. According to Amy G. Egan, M.D., M.P.H., deputy director of the Office of Drug Evaluation III in the FDA's Center for Drug Evaluation and Research, Kybella treatment should only be provided by licensed healthcare professionals.
At the same time, the patients should be fully aware of the potential risks associated with the use of the drug. Egan says that it is important to remember that Kybella is only approved for the treatment of submental fat, and whether it is suitable for other areas of the body is not yet known.
Treatment Protocol
Kybella is administered in the injection form directly into the fat tissue below the chin. Patients can receive multiple injections in a single treatment session. Up to six treatments may be received by a patient, but treatment sessions should be spaced at least a month apart. Kybella drug is currently available in single patient use vials, and it must not be mixed or diluted with any other compounds that are on the market.
To learn more about the plastic surgery treatments and procedures performed by Dr. Suzanne Quardt (Dr. Q) please contact us at 760-324-2660. To learn more about Dr. Q's Medical Spa please visit drqmedicalspa.com