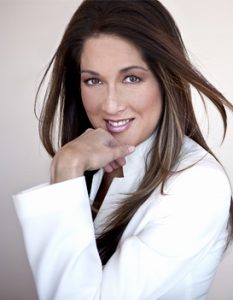 Dr. Suzanne Marie Quardt, known as "Dr. Q™" by many of her patients in Palm Springs and Palm Desert, is a board certified plastic surgeon providing innovative cosmetic surgery as well as non-surgical procedures. Dr. Q received her medical degree along with the Faculty Organization Award for Most Outstanding Research Project from the University of Medicine & Dentistry of New Jersey-NJ Medical School campus in Newark. She performed a sub-internship at Columbia University and received a letter of recommendation from the famous Dr. Oz.
Dr. Q completed her general surgery residency, plastic surgery residency and research at the USCLA and LA County/USC Medical Center. She followed it up with an advanced fellowship in Specialty Plastic Reconstructive and Burn Reconstructive Surgery at Rancho Los Amigos National Rehabilitation Center in Downey, CA. She honed her skills further with an American Society of Aesthetic Plastic Surgeons (ASAPS)-accredited Aesthetic Surgery Fellowship in Marina del Rey, CA.
Dr. Q was included among the Coachella Valley's "Top Docs" by Castle Connelly, Ltd. in Palm Springs Life magazine. She has also been nominated by her peers as one of the region's Top Plastic Surgeons for two consecutive years in Palm Spring's Life and Castle and Connolly Medical Ltd.
Procedures at Dr. Q Plastic Surgery
Dr. Q is a reputed cosmetic surgeon in Palm Springs and Palm Desert for a comprehensive range of surgical as well as non-invasive treatments. Some of the key procedures provided by Dr. Q include the following:
Facial Procedures
• Brow Lift
• Eyelid Surgery
• Facelift
• Facial Liposuction
• Facial Procedures FAQ's
• Lip Enhancement
• Mini Facelift
• Rhinoplasty
The face is the most visible part of the body from an aesthetic point of view. When the signs of aging appear on the face, they can be very easily noticed. A number of cosmetic surgery procedures are available to reduce these signs of aging. Patients may choose to go for a complete or partial facelift surgery or specific procedures such as rhinoplasty, brow lift or lip enhancement.
Breast Surgery
• Breast Augmentation
• Breast Lift
• Breast Reconstruction
• Breast Reduction
• Breast Revision
Breast Implant Options
• Saline Breast Implants
• Sientra's Gummy Bear Implants
• Allergan Natrelle Breast Implants
• Mentor Breast Implants
Breast surgery is usually a major procedure, and it should be performed by an experienced plastic surgeon only. Dr. Q provides breast augmentation to patients in Palm Springs and Palm Desert, and helps them make appropriate choice in terms of the type, size, texture and quality of breast implants. Breast augmentation is one of the most popular cosmetic surgeries today. The procedure may sometimes be combined with breast lift to raise the sagging breasts apart from adding more breast volume. Non-elective procedures such as breast revision and breast reconstruction may also be provided by experienced surgeons.
Body Contouring
• Abdominoplasty ("Tummy Tuck")
• Arm Lift (Brachioplasty)
• Blepharoplasty (eyelid surgery)
• Body Lift
• CoolSculpting
• Labiaplasty
• Liposuction
• Lipotherme (Laser Liposuction)
• Lower Body Lift
• Mommy Makeover
• Reverse Abdominoplasty
• Thigh Lift
Patients who suffer from unwanted fat deposits in specific areas of the body such as abdomen, thighs, hips, arms, calves, cheeks, neck, or knees may opt for liposuction or other body contouring procedures. Women may also opt for a comprehensive mommy makeover following a pregnancy in order to regain their pre-pregnancy figure. Less invasive procedures such as laser based liposuction and non-invasive options such as CoolSculpting are also available for patients in Palm Springs and Palm Desert at Dr. Q's office.
Male Surgery
• Breast Reduction for Men
• Gynecomastia
• Liposculpture
Specialized cosmetic and corrective surgeries for men can be received from a reputed cosmetic surgeon. These may include state of the art procedures such as liposculpture. Some men suffer from an abnormal condition of enlarged breasts. This condition can be corrected with plastic surgery.
Non-Surgical Procedures
• Chemical Peels
• Botox and Dysport
• Facial Fillers
• Laser Procedures
• Laser Skin Resurfacing
• Lip Enhancement
• Liquid Facelift
• Latisse
• Skin Care
Many patients are desirous of achieving an attractive and youthful appearance, but do not wish to undergo an elective cosmetic surgery procedure. A number of non-surgical treatments are now available for such patients. Results of non-invasive and minimally invasive treatments are effective, but may not last for as long as the surgical outcomes do.
However, these treatments do not involve much downtime and avoid the typical risks and complications that may be associated with a surgery. Dr. Q provides the latest and proven non-surgical procedures for patients in Palm Desert and Palm Springs, who are unable or unwilling to undergo a surgery.