Breast
Lift Surgery
With
Implants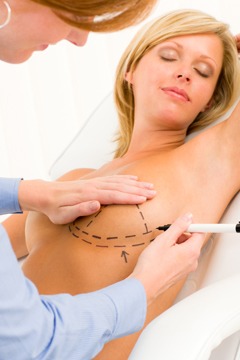 Breast implants with lift cosmetic surgery, also known as breast augmentation / mastopexy is a combined procedure to increase your breast size and enhance their shape and firmness. The procedure involves the placement of saline or silicone implants along with a removal of excess breast skin and possible resizing or repositioning of the areolas.
At the time of your pre-operative consultation, your surgeon will determine whether you are a candidate for a single surgery or a combined breast augmentation with lift surgery. They will consider your breast anatomy and personal aesthetic goals to create a customized surgical plan.
Board certified plastic surgeon Dr. Suzanne Quardt provides breast lift with implants surgery to patients in Palm Springs, Palm Desert, Rancho Mirage, and surrounding locations.
Surgical Procedure
Breast lift with augmentation plastic surgery is more intricate, and you should preferably work with a board certified and experienced surgeon for this combined procedure. The surgeon may decide to perform this procedure at an accredited surgery center or a hospital.
You will be placed under general anesthesia to ensure that you are completely comfortable through the surgery process. An anesthesiologist will be present in the surgery room to monitor your response to anesthesia. Following anesthesia, your surgeon will create incisions in discreet locations as per the agreed surgical plan.
To perform the combined breast augmentation with lift surgery, it may be necessary to create an anchor incision (this includes an incision around the lower half of the areola, a vertical incision from the areola to the breast crease, and another incision in the breast fold). In some cases, a lollipop incision may be used, which will be created around the areola and going vertically down to the breast crease.
The incision placement will depend on the amount of breast tissue to be removed and the size of implants to be placed. Your surgeon will place saline or silicone implants through the incisions, and position them under the chest muscle. Thereafter, they will excise the loose breast skin and tighten the tissue to make the breasts look lifted, firm and more youthful.
The nipple-areolar complex may be resized or reposition to a higher level to create a more natural look of your breasts. The incisions, the implant placement, and the nipple improvement will be based on your unique breast anatomy and personal goals. The entire surgery may be completed in about two to three hours.
Immediately After the Surgery
Breast augmentation with lift surgery is usually performed on an outpatient basis. After you are brought out of the operating room, your condition will be monitored for a few hours in the recovery area before you are allowed to go home.
You should have someone responsible to drive you back home after your surgery. In the first 24 to 48 hours, your movements will be limited, so you may seek assistance from a family member or friend for the household chores during this period or hire professional help.
Cosmetic surgeon Dr. Suzanne Quardt receives patients from Palm Springs, Palm Desert, Rancho Mirage, and nearby areas for breast lift with implants surgery.
Contact Us to Schedule a Consultation
To learn more about the plastic surgery treatments and procedures performed by Board Certified Plastic Surgeon, Dr. Suzanne Quardt (Dr. Q) please contact us at 760-324-2660. To learn more about Dr. Q's Medical Spa please visit drqmedicalspa.com
Dr. Q receives patients from Palm Springs, Palm Desert, Rancho Mirage, and other suburbs and towns in this part of California.