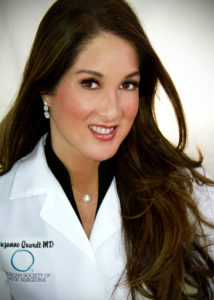 Repeated and extended sun exposure can lead to a common skin disorder called Actinic Keratosis (AK). It is a thickening of the protective, outer skin layer, usually forming rough, scaly and flat lesions that may be brownish or pinkish in color.
Actinic keratosis typically appears in sun exposed sites such as the face, neck, ears, chest, forearms, and back of the hand.
Fair skinned and light haired people are more prone to AK because their skin can burn when exposed to the sun. Those who work outdoors for extended hours are also at risk. Board certified plastic surgeon Dr. Suzanne Quardt (Dr. Q) provides various cosmetic surgery as well as non-surgical skin care procedures to patients in Palm Springs, Palm Desert, Rancho Mirage, and surrounding communities across the landscape.
Treatments
The patient should seek professional medical care from a skin care and plastic surgery expert because the lesions of actinic keratosis are pre-malignant and may lead to skin cancer. A common treatment is the application of liquid nitrogen, which freezes the lesions causing it to separate from the normal skin underneath. Several other treatment options are also available, which include application of topical anti-cancer drugs, photodynamic therapy, and chemical peels.
After the treatment, the patient should take extra care to avoid sun exposure. A brimmed hat and long sleeves should be worn when outdoors, and exposed skin should be protected with a sunscreen. The sunscreen should be SPF 30 or higher, and it works best when applied 15 to 30 minutes before sun exposure.
Topical Therapies
Topical therapies are suitable for larger affected sites, and may take longer to produce results. Medication is typically applied everyday over a specified time period to create the desired reaction over the treatment area. If multiple lesions are involved, significant reactions may occur.
The topical medications are likely to control the AKs for a longer time period. Scarring is usually not a concern with this type of treatment. Side effects may include oozing, redness, and crusting in the treated area.
Cryotherapy
Cryotherapy involves application of liquid nitrogen to the skin. This will produce a blister that will flake off in a few weeks and will be replaced by new skin. It only takes a few minutes to freeze the AK with this process, but it may take up to 72 hours to develop. Redness in the treated site is usually the only side effect.
Chemical Peels
The treatment provider will recommend an appropriate chemical peel, which is applied to the affected areas of the skin. Depending on the depth of the peel, the skin will peel off over the next few days. Fresh, new skin will gradually replace the treated site. Swelling and redness may occur as the side effects of this treatment.
Photodynamic Therapy (PDT)
Photodynamic Therapy (PDT) involves the application of a sensitizing chemical to the affected sites for a limited time period. Following the application, the skin is exposed to a blue light, which activates the chemical and destruct AKs. Remarkable and judicious cosmetic surgeon Dr. Q receives patients from Palm Springs, Palm Desert, Rancho Mirage, and nearby areas for AK treatment.

To learn more about the plastic surgery treatments and procedures performed by Dr. Suzanne Quardt (Dr. Q) please contact us at 760-324-2660. To learn more about Dr. Q's Medical Spa please visit drqmedicalspa.com