MICROTOX (Baby Botox)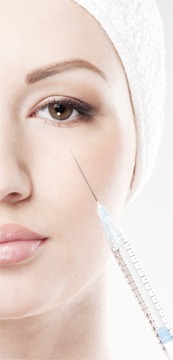 Botox and other similar neuromodulator injectables, such as Dysport, Xeomin, and NewTox, rank as the most popular non-surgical facial enhancement procedure in the US today. However, some women and men may require only very subtle improvements with tiny volumes of Botox for more natural looking effects.
This can be achieved with Microtox (popularly called Baby Botox) injection treatment. Dr. Q Medical Spa, led by board certified plastic surgeon Dr. Suzanne Quardt (Dr. Q) provides Microtox to patients in Palm Springs, Palm Desert, Rancho Mirage, and surrounding locations.
What is Microtox?
Some patients are concerned about over-dramatic, unnatural, or "frozen" look with the traditional Botox injections. Although a skillful provider will avoid these risks and will never over-inject, the task is now much easier with the introduction of Microtox treatment. If you want to delay the onset of signs of facial aging, or minor fine lines that you need to erase from the face, you may consider this "Baby Botox" treatment.
Microtox procedure involves special injection techniques to ensure you can achieve a subtle and more natural looking finish compared to a traditional Botox treatment. The active ingredient in Microtox is also botulinum toxin type A (just like Botox), but the delivery of the injection is done using a "shrink-wrap" approach. It will reduce the wrinkles and fine lines from the face, while maintaining the natural facial contours.
The key is to work with a knowledgeable and experienced injection provider who understands the function and effectiveness of Microtox treatment.
Near-Instant Results with Microtox
Although at the core of it, Microtox is very similar to Botox, but the differences in the injection delivery approach and the unit volumes allow your provider to create differentiated results. Sometimes you may be in need to achieving very quick results, which is possible with Microtox. It will significantly cut down the time lag compared to Botox, and deliver near-instant results.
With Botox, it can often take up to a week before you can notice the full results of the treatment. But with Microtox, chances are that you will walk out of the med spa with a visible facial improvement. When Baby Botox is delivered directly underneath your skin, it will create a subtle reduction in fine lines and improve facial definition. The treatment will not target the underlying facial muscles, which can sometimes stiffen your face.
How does it
work
?
Microtox involves the use of ultra-thin (almost hair-like) micro needles to penetrate the affected areas of your skin. The needles are so tiny that you will virtually experience no pain, while the neurotoxin medication gets directly infused into the strategic facial sites.
While in case of Botox, the wrinkle-forming muscle gets relaxed to produce more conspicuous results, with Microtox the wrinkle reduction is relatively subtle. If you are seeking almost immediate outcomes and want to reduce the effects of fine lines and wrinkles in a subtle manner and without the risk of an unnaturally smooth look, you can choose Microtox.
Cosmetic surgeon Dr. Suzanne Quardt receives patients from Palm Springs, Palm Desert, Rancho Mirage, and nearby areas for Microtox.
Schedule a Consultation with California Board Certified Plastic Surgeon, Dr. Q
To learn more about the plastic surgery treatments and procedures performed by Board Certified Plastic Surgeon, Dr. Suzanne Quardt (Dr. Q) please contact us at 760-324-2660. To learn more about Dr. Q's Medical Spa please visit drqmedicalspa.com
Dr. Q receives patients from Palm Springs, Palm Desert, Rancho Mirage, CA, and other suburbs and towns in this part of California.