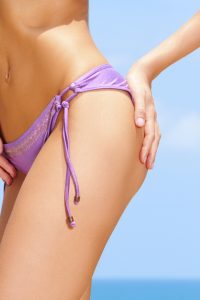 A toned, round, and fit backside is quite a desirable attribute. Many patients consider treatment in this specific area.
Similar to any liposuction cosmetic surgery procedure, the surgeon uses a customized approach to create shapely and well-proportioned buttocks.
But other common treatment areas surround the buttocks. Therefore, a comprehensive approach is especially paramount when treating this region. The surgeon will carefully consider each part of the patient's anatomy to offer them the best possible buttock liposuction results.
The Banana Roll
Generally, the buttocks themselves rarely are treated with liposuction. To create an aesthetically appealing butt shape, the surgeon will liposuction around the butt-hips, posterior, outer thighs, upper thighs, also called the banana roll.
Patients considering liposuction of the butt should work with a surgeon who understands how each area of the body interacts aesthetically. Board certified plastic surgeon Dr. Suzanne Quardt (Dr. Q) provides liposuction for the buttocks to patients in Palm Springs, Palm Desert, Rancho Mirage, and surrounding communities.
Butt Liposuction Procedure
The surgeon uses a device, called a cannula, to perform buttock liposuction. A cannula is a thin steel tube that the surgeon inserts slowly into the fat layer of the buttock.
They will move the cannula back and forth carefully through the layer of fat while remaining perfectly parallel to the skin. This disintegrates the fat cells, and these cells are suctioned out of the body through the cannula.
Similar to every procedure that the surgeon delivers, his Beverly Hills buttock liposuction is undertaken with minimally invasive tumescent liposuction.
Only local anesthetic is used throughout the entire procedure. The patient is not unconscious, which enables faster healing and better quality results than more invasive types of liposuction.
A suitable candidate for butt liposuction is a person with a large, protruding backside and who is seeking to reduce its overall size. Such patients also usually have a thick fat layer on the surface of their buttock.
In the butt liposuction surgery, the plastic surgeon removes this outer layer of fat while also sculpting it into a desirable, round shape with excellent muscle definition. They may also perform liposuction in the surrounding areas, such as the thighs, hips, and flanks, depending on the patient's body shape.
The surgeon will consider various factors during the plastic surgery procedure, such as skin elasticity and the overall body proportions of the patient. This will allow them to deliver results that are not only beautiful but also customized to the patient's unique needs.
Buttock Enhancement with Fat Transfer
Many patients can attain their desired outcomes with only a fat transfer instead of liposuction. A fat transfer refers to a special procedure to add more fullness to an area of the body. This is achieved by injecting fat that has been taken from another area of the body.
Surgeons often find that many of their patients require a fairly simple approach to enhance the shape of their buttocks. This approach involves taking fat from the lower butt and transferring it to the upper buttock. This helps lift, smooth, and tighten the entire butt.
More Positives to Consider
Fat transfer is undertaken as an outpatient procedure with the patient under a local anesthetic. Patients experience minimal downtime and negligible discomfort.
Cosmetic surgeon Dr. Suzanne Quardt (Dr. Q) receives patients from Palm Springs, Palm Desert, Rancho Mirage, and nearby areas for liposuction of the buttocks.
To learn more about the plastic surgery treatments and procedures performed by Dr. Suzanne Quardt (Dr. Q) please contact us at 760-324-2660. To learn more about Dr. Q's Medical Spa please visit drqmedicalspa.com
Dr. Q Medical Spa receives patients from Palm Springs, Palm Desert, Rancho Mirage, and other suburbs and towns in this part of California.