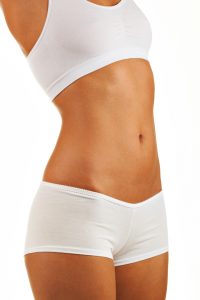 Many people are unhappy about fatty pockets around their stomach that are resistant to diet or exercise. Today liposuction is the most sought-after type of plastic surgery in the US.
Big Numbers
According to the American Society for Aesthetic Plastic Surgery nearly 400,000 liposuction procedures were undertaken in 2015 alone.
Loose belly fat may not disappear magically, but liposuction does offer an effective solution to address love handles and other types of undesirable flab. Board certified plastic surgeon Dr. Suzanne Quardt (Dr. Q) provides liposuction to patients in Palm Springs, Palm Desert, Rancho Mirage, and surrounding locations.
What Stomach Liposuction Does
There is a general redistribution of body fat due to aging, especially around the mid-body area. Childbirth can lead to the development of stubborn and undesirable body fat in women. Genetics, of course, account for a lot as well. However, as far as liposuction is concerned, all fat is not the same.
The fat that is unresponsive to diet and exercise is generally subcutaneous fat. This type of fat is found underneath the skin and on top of the abdominal muscle wall.
Liposuction body contouring cosmetic surgery is designed to eliminate this type of fat. This procedure can remove flab pockets, re-contour the middle, and enhance the overall body shape.
How Abdominal Liposuction Is Done
To eliminate fat around the buttocks, stomach, ankles, and thighs, a technique known as "tumescent liposuction" is commonly used. This procedure is considered to be the safest. "Tumescent" refers to the substantial amounts of buffered salt water that is injected into the fatty tissue underneath the skin.
The surgeon places an incision in the fatty area to be treated. They will then insert a thin tube known as a cannula beneath the flesh. The cannula is connected to a vacuum and has a stiff want at the end.
The surgeon will move the cannula back and forth in rapid motions to dislodge fat. The time taken for the procedure is between 45 minutes and two hours. Patients normally experience downtime of up to two weeks.
The complete effect of liposuction becomes apparent in six to 12 weeks after the surgery. The surgeon will bandage the area after the procedure, and the patient must wear a compression garment for one to two weeks. The bruising and pain may last for up to two weeks while the inflammation may last from two weeks to two months.
What Stomach Liposuction Cannot Do
Liposuction is meant to be a fat-loss procedure and not a solution for weight-loss. It is most effective on fatty deposits in specific areas. These fat pockets are unresponsive to exercise, specifically around the thighs, hips, buttocks, and stomach.
The patient may lose a little weight, but it is unlikely to be substantial. Liposuction also cannot address a bulging stomach due to weakness in the abdominal wall. It cannot tighten loose skin. At times, liposuction is combined with a tummy tuck to effectively tone and flatten the abdominal area.
Post-Op Healing
Patients usually do not need any pain meds stronger than acetaminophen (Tylenol) following tumescent liposuction. The pain is similar to muscle soreness or the burning sensation experienced after an aggressive work-out session.
The pain intensity is similar to that of sunburn. It feels most intense when the skin is touched or flexed, such as when rolling over in bed, getting in and out of a car, or sitting still in a chair. The patient will experience minimal discomfort when sitting or walking.
Cosmetic surgeon Dr. Suzanne Quardt (Dr. Q) receives patients from Palm Springs, Palm Desert, Rancho Mirage, and nearby areas for liposuction.

To learn more about the plastic surgery treatments and procedures performed by Dr. Suzanne Quardt (Dr. Q) please contact us at 760-324-2660. To learn more about Dr. Q's Medical Spa please visit drqmedicalspa.com
Dr. Q Medical Spa receives patients from Palm Springs, Palm Desert, Rancho Mirage, and other suburbs and towns in this part of California.