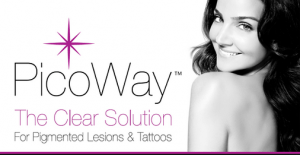 Permanent tattoos are meant to be forever, but many times people want to have the tattoo removed after a while. Permanent tattoo removal without cosmetic surgery can be successfully performed using laser techniques. PicoWay is one of the cutting edge laser technologies that can effectively remove a permanent tattoo in almost any color, shape, and size.
Although results can vary from one person to another, but with PicoWay people usually achieve most satisfying outcomes.
This laser treatment will not only remove black and other deep and dark colors which are easier to eliminate, but also remove tough colors such as blue and green with selective laser technique. The procedure can be individualized according to the specific color, depth and quality of the ink used in the tattoo.
The goal of the laser expert will be to achieve optimal results using minimal laser exposure and avoiding obvious scarring. Stellar, sharp, and board certified plastic surgeon Dr. Suzanne Quardt (Dr. Q) provides laser tattoo removal to patients in Palm Springs, Palm Desert, Rancho Mirage, and other towns and cities in this area of the country.
Advantages with PicoWay Laser
PicoWay laser technology offers several innovative and advanced features that make it a preferred treatment option over other alternatives.
The procedure involves no cuts, incisions or

plastic surgery

.

It can be used for all types of skin.

All colors and types of permanent tattoos can be treated.

More effective results and fewer treatment sessions.

Ultra-fast delivery of concentrated, high power laser energy for deeper results.

Very little downtime and recovery.

Minimal risks of side effects.

Minimal discomfort.

Possible to use the same technique for additional skin cosmetic treatments.
Innovative Picosecond Platform
PicoWay from Syneron Candela is one of the most innovative 3 wavelength picosecond laser systems. This cosmetic laser technology has both non-fractional and fractional capabilities. The appropriate option can be used according to the intensity of laser treatment needed.
PicoWay delivers extremely brief picosecton energy pulses to the targeted tissue, causing minimal discomfort and no harm to the surrounding healthy tissue. The short bursts of energy produce a precise photoacoustic impact which disintegrates the tattoo pigmentation into smaller, more easily removed particles.
Advanced Tattoo Removal Capability
Compared to the traditional Q-switched laser technology, the treatment provider can remove the tattoo faster with PicoWay laser due to its short pulse duration capability. Different skin types, skin tones, and tattoo colors can be addressed with equal efficiency because of the multiple laser wavelength capability of PicoWay. The laser is safe and effective, and patients usually achieve complete satisfaction with the results.
PicoWay is the first ever 785 nm wavelength picosecond-domain laser in the world. This innovation sets this laser procedure apart from many other treatments. It allows PicoWay to achieve optimal results even for blue and green colored tattoos. The 785 nm is a cutting edge addition to the 532 and 1,064 nm wavelengths, which were already the strength of the PicoWay procedure.
Experienced, successful, and caring cosmetic surgeon Dr. Q receives patients from Palm Springs, Palm Desert, Rancho Mirage, and other towns and cities in this part of SoCal for laser tattoo removal.
To learn more about the plastic surgery treatments and procedures performed by Dr. Suzanne Quardt (Dr. Q) please contact us at 760-324-2660. To learn more about Dr. Q's Medical Spa please visit drqmedicalspa.com