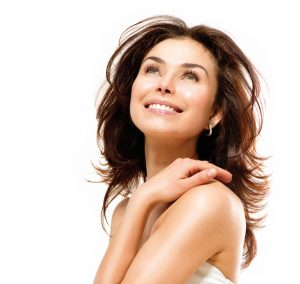 Sublative Rejuvenation with eMatrix is an innovative med spa procedure based on radio frequency (RF) energy. It delivers targeted ablative and non-ablative fractional treatment to effectively reduce the appearance of liver spots and enhance skin texture.
eMatrix employs RF energy rather than a laser. Every pulse delivers RF energy in a matrix pattern. This induces skin injury in these small, precise skin areas activating fibroblasts within the "zones" which trigger the production and remodeling of collagen to improve the overall skin tone and texture.
The surrounding healthy tissue then helps support and speed-up the healing process in the skin.
The patient usually requires a series of three to five treatment sessions for effective outcomes in the elimination of liver spots. Non-Surgical Dr. Q Medical Spa, led by cordial board certified plastic surgeon Dr. Suzanne Quardt, provides skin rejuvenation treatments to patients in Palm Springs, Palm Desert, Rancho Mirage, and surrounding locations.
Sublative Rejuvenation with eMatrix Candidates
Patients seeking to mitigate liver spots, skin laxity, or scarring with minimal downtime are ideal candidates for eMatrix. In case the patient is pregnant or has been on Accutane in the past six months, they should avoid Sublative Rejuvenation.
In addition, patients with internal defibrillators, pacemakers, or metal implants in the treatment area should not receive these procedures.
Patients with autoimmune diseases, diabetes, a history of cold sores, or who have received injectable fillers in the treatment site (patients will be required to wait for one month following filler injections) should inform the treatment provider before undergoing Sublative Rejuvenation.
Sublative Rejuvenation with eMatrix Skin Resurfacing Procedure
This med spa treatment is non-invasive and does not involve the use of injections or medications either. The heat energy triggers the production and remodeling of collagen in the treatment area. This procedure does not rely on temporary filler material to achieve skin improvements.
Expected Outcomes
Patients will see a visible decrease in liver spots as well as other signs of facial aging. Moreover, the patient will see enhancements in the skin texture and reduced skin laxity. In many patients, the outcomes manifest over three to six months since it takes time for collagen to generate. However, some patients see noticeable changes right after the procedure.
Sublative Rejuvenation with eMatrix Side Effects
A majority of patients experience redness and inflammation ranging from a few hours to three days after the procedure. This swelling and redness can also persist for a longer duration. The patient may apply make-up to the treatment site right after the Sublative Rejuvenation procedure.
Minor crusts usually develop and persist for approximately five to 14 days. However, the patient can use makeup to camouflage these crusts after the initial one to two days following the treatment.
Outcomes will develop over time with progressive treatments. Complete results from the procedure will be visible after three to six months of the last treatment session. The patient may require maintenance treatments.
eMatrix in Combination with other Treatments
eMatrix administered in combination with photo-rejuvenation procedures can improve the skin's texture and appearance of enlarged pores. It also helps tighten skin and remove liver spots and redness. The devoted Dr. Q Medical Spa receives patients from Palm Springs, Palm Desert, Rancho Mirage, and other towns and communities in this section of SoCal for skin rejuvenation.

To learn more about the plastic surgery treatments and procedures performed by Dr. Suzanne Quardt (Dr. Q) please contact us at 760-324-2660. To learn more about Dr. Q's Medical Spa please visit drqmedicalspa.com