Breast augmentation cosmetic surgery, also known as augmentation mammoplasty, is usually performed for aesthetic purposes.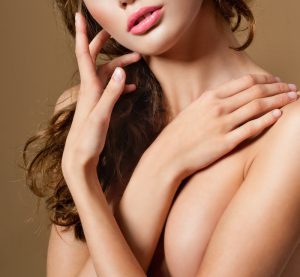 This procedure can add fullness to disproportionately small breasts, create more symmetry between the breasts, and create a more voluptuous figure, depending on a candidate's needs.
During the initial consultation, the surgeon will determine the patient's candidacy for breast augmentation and recommend an appropriate surgical technique. Prudent board certified plastic surgeon Dr. Suzanne Quardt (Dr. Q) provides breast augmentation to patients in Palm Springs, Palm Desert, Rancho Mirage, and surrounding locations across the horizon.
Need for Breast Augmentation
Patients typically choose a breast augmentation procedure to:
Make the breasts more proportionate to the rest of the body

Create more symmetry between breasts that are shaped and sized differently

Feel more appealing and feminine

Replace lost fullness of the breasts following pregnancy, nursing, or weight loss

Treat congenital deformities in one or both the breasts

Enhance confidence and body image

Add fullness to breasts that were unable to develop completely after puberty (micromastia)
After the patient understands the advantages, risks, and costs associated with breast augmentation plastic surgery, her candidacy for the procedure will depend on her overall health, goals, and realistic expectations.
Health Requirements
Any surgical procedure requires the patient to be in good overall health. The patient should candidly inform the surgeon of any pre-existing conditions such as heart disease, diabetes, high blood pressure or another issue that could impact their ability to recover from the procedure.
The surgeon may require the patient to adjust the schedule of any medicines that she may be taking that could affect the breast augmentation surgery.
Attributes of an Ideal Candidate
Ideal candidates for a breast enhancement surgery could be as follows:
A non-smoker or be willing to stop smoking for a specific period before and after the breast augmentation surgery

Near her ideal weight range and reasonably fit

Not have bleeding tendencies and infections

Willing to avoid or reduce alcohol intake during the recovery phase

Not pregnant or breastfeeding at present

Not have any cancerous and pre-cancerous breast tissue
Age Requirements
The FDA has approved silicone breast implants to be used for breast augmentation. However, it has stipulated that only women aged 22 years or more may receive breast enhancement using silicone implants. The same restriction extends to gummy bear (ultra-cohesive gel) implants too.
But women aged 18 and above can receive saline breast implants. Women below the age of 18 can undergo breast implant surgery only in exceptional cases, such as the treatment of breast injuries, breast reconstruction following mastectomy, or correction of congenital deformities.
Developing Realistic Goals and Expectations
In addition to good overall health, ideal candidates for breast enhancement procedures are knowledgeable about the surgery and have realistic expectations from the outcomes of the surgery while being completely aware of the possible risks and side effects.
A woman considering breast implant surgery should undergo the procedure for her own reasons rather than under any type of pressure. Breast augmentation may be a suitable procedure for adult women who are sure of their reasons to receive the surgery.
Accomplished cosmetic surgeon Dr. Q receives patients from Palm Springs, Palm Desert, Rancho Mirage, and other neighborhoods and communities in this section of the Golden State for breast augmentation surgery.
To learn more about the plastic surgery treatments and procedures performed by Dr. Suzanne Quardt (Dr. Q) please contact us at 760-324-2660. To learn more about Dr. Q's Medical Spa please visit drqmedicalspa.com