Suzanne M. Quardt, M.D.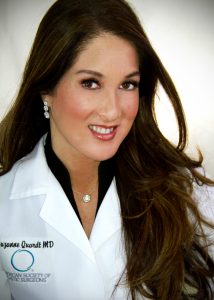 Dr. Suzanne Marie Quardt, called "Dr. Q ™"  by her many patients, is Board-Certified by the American Board of Plastic Surgery.  She was born in New York City then raised in  nearby New Jersey where she received the Garden State Distinguished Scholar Scholarship for Rutgers University. She received a Bachelors degree in Biology and then continued her education at the University of Medicine & Dentistry of New Jersey-NJ Medical School campus in Newark. She graduated with honors, earning her Medical Degree (M.D.) as well as the Faculty Organization Award for Most Outstanding Research Project. Dr Q ™ performed a Sub-Internship at the prestigious Columbia University and received a letter of recommendation from the now very famous, Dr. Oz.  She went on to interview around the nation, and was accepted at the University of Southern California in Los Angeles.  She did her General Surgery Residency, Plastic Surgery Residency as well as Research at the LA County / USC Medical Center and published many articles. She served as Chief Resident in Plastic Surgery from 2003 to 2004, and remains influenced and inspired by her many outstanding mentors there.
Dr Q ™ then went on to complete a post-graduate fellowship training program in Specialty Plastic Reconstructive and Burn Reconstructive Surgery at Rancho Los Amigos National Rehabilitation Center in Downey, CA. She takes a special interest in spinal cord injury patients, management of difficult pressure sores, and complex wound care.  Dr Q ™ served as the Assistant Medical Director of Eisenhower's Wound Care Center upon the center's opening in 2008.
Dr. Quardt further specialized her experience and skills with an American Society of Aesthetic Plastic Surgeons (ASAPS)-accredited Aesthetic Surgery Fellowship in Marina del Rey, CA, with renowned cosmetic plastic surgeons Dr. W. Grant Stevens and Dr. David A. Stoker. She received extensive training in the latest advancements in all aspects of cosmetic surgery, with a particular emphasis on breast surgery and liposuction/liposculpture techniques. While she was there, her ongoing research efforts led to many publications and presentations regarding the safety and efficacy of mastopexy (breast lift) surgery as well as mastopexy combined with breast augmentation.
Dr Q ™ moved to the greater Palm Springs area in 2006.  She served as the Chief of Plastic Surgery at the prestigious Eisenhower Medical Center in Rancho Mirage from 2009 to 2011, and currently serves on several Hospital Committees there.  Dr. Quardt appreciates that her patients' safety is paramount. She performs surgery either at the hospital, or in fully-accredited outpatient surgery settings, with board-certified anesthesiologists. Dr Q ™ was recently named one of the Coachella Valley's "Top Docs" by Castle Connelly, Ltd in Palm Springs Life magazine. Dr Q ™ performs all aspects of Plastic Surgery including cosmetic surgery of the face and body, as well as challenging cases including reconstructions after breast, skin and other cancers, trauma, and other medical conditions.
Dr Q ™ is a member of numerous national medical societies including the American Society of Aesthetic Plastic Surgeons, American Society of Plastic Surgeons, the California Society of Plastic Surgeons, Diplomat of The American Board of Plastic Surgery, and the American Society for Laser Medicine and Surgery. Dr Q ™ supports many local organizations including 100 Women of Desert AIDS Project and The Women's Leaders Forum and serves as a Mentor for the Young Ambassadors Program of the WLF- for young women interested in becoming surgeons. Dr Q ™ supports many local charities including The Desert Cancer Foundation, Olive Crest, The Desert AIDS Project & 100 Women of DAP, The Women's Leaders Forum, The American Heart Association, Go Red for Women and Loving All Animals. When not in the OR or office, you can find Dr Q ™ spending time with her husband, Rick and rescue doggie, TJ. She has always had an artistic flair, and enjoys a lifelong passion with dancing, music, piano and art. Dr Q's motto is "a Surgeon's Hand with a Woman's Touch" and you always know that with Dr. Q ™… "it's all about YOU!"
Dr. Quardt has had great experience previously serving the Beverly Hills, Newport Beach, Santa Monica, Pasadena, and Los Angeles areas. She is now extremely happy to be a part of the Coachella Valley and continue to service the growing Desert community.
Dr. Q ™ is now on RealSelf http://www.realself.com
Please also visit Dr. Q ™'s breast surgery website www.palmspringsbreastimplants.com and body contouring site www.palmspringsliposuction.com
Do not forget to join Dr. Q ™'s VIP Club
Click here to view Dr. Quardt's complete CV (Curriculum Vitae/Resume).
---
Palm Springs Top Doc 2011
---
News & Articles
PSP Plastic Surgery Practice – September 2010
PSP Plastic Surgery Practice – October 2010