EXPAREL: The Most Effective, Non-Narcotic Option for Post-Operative Pain Management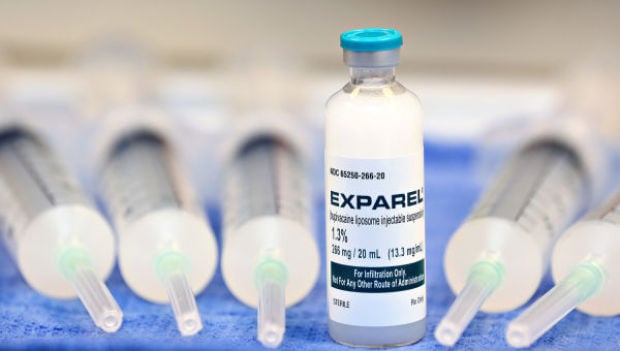 Modern post-operative pain management protocols typically incorporate intravenous and oral narcotics (opioids), which are often delivered through the use of pumps requiring external bags and internal catheters. Although these medications do help control the patient's discomfort, they are also associated with a number of unwelcome side effects that can be a detriment to the patient's overall recovery experience, such as:
The delay of ambulation (ability to walk)
Gastrointestinal, respiratory, and genitourinary side effects (i.e. nausea, drowsiness)
Potential for the development of increased tolerance and addiction
Highly sedative effects
At Dr. Q™ Plastic Surgery, located in Rancho Mirage, CA, Board-certified plastic surgeon Dr. Suzanne Quardt (Dr. Q™) strives to make sure her patients receive the best post-operative care possible, and is pleased to offer the non-opioid (non-narcotic) local analgesic EXPAREL as one of the pain-management options for patients undergoing surgical procedures.
What Is EXPAREL?
Learn how EXPAREL can give you the pain control you need after surgery…while reducing or eliminating the need for narcotics. With pain under control, you can better focus on healing and getting back to your life.
In In In contrast to systemic medications (i.e. opioids), which affect the entire body, EXPAREL is injected directly under the muscle fascia of the targeted surgical site, numbing only the tissue that will be impacted during the procedure, and allowing for a very precise, targeted administration. This localized injection technique helps patients decrease their reliance on narcotics during the initial phase of their recovery, which alleviates the stress systemic medications can cause, and facilitates a more rapid recovery process, enabling patients to resume their normal activities within a shorter time frame.
EXPAREL is uniquely formulated to gradually release a proven analgesic (bupivacaine), which provides pain relief over an extended period of time after just a single dose. EXPAREL is often used as a supplementary or ancillary medication in conjunction with lower doses of traditional pain-management options, as a combination of medications may be necessary for an expeditious and successful recovery.
During your initial consultation, Dr. Q™ will discuss whether EXPAREL is an appropriate option for your post-operative care, and will work with you to create a recovery plan that is best suited for your specific needs.
CONTACT DR. Q™ PLASTIC SURGERY
From the moment you walk through the doors of our pristine facility, you will experience the exceptional standards of patient care that Dr. Q™ and her staff work tirelessly to maintain. We treat our patients with the warmth, compassion and respect that they deserve, and are always available to address any of your concerns.
If would like additional information about managing your post-operative pain with EXPAREL, please contact Dr. Q™ Plastic Surgery today. We look forward to speaking with you, and to scheduling your initial consultation with Dr. Q™.