WHAT IS ULTHERAPY?
Contact us Today
Ultherapy is a revolutionary, non-invasive treatment designed to fight the signs of aging in our skin by stimulating the body's natural production of collagen. The collagen in our skin helps it to stay firm, toned and elastic. Sadly, as we age, our collagen levels decrease, causing the skin to lose elasticity and succumb to the effects of gravity, allowing our skin to sag as it is pulled downward. Ultherapy uses the safe power of ultrasound to trigger our skin to create new, fresh collagen that can stand up to gravity and give the face and neck a firm, uplifted look. Dr. Suzanne Quardt is a Board-Certified plastic surgeon with years of experience with both surgical and non-surgical approaches to body contouring and anti-aging treatments. "Dr. Q", as she is affectionately called by her patients, will listen carefully to your aesthetic concerns, and will design a customized Ultherapy treatment plan to ensure that your aesthetic goals are fulfilled.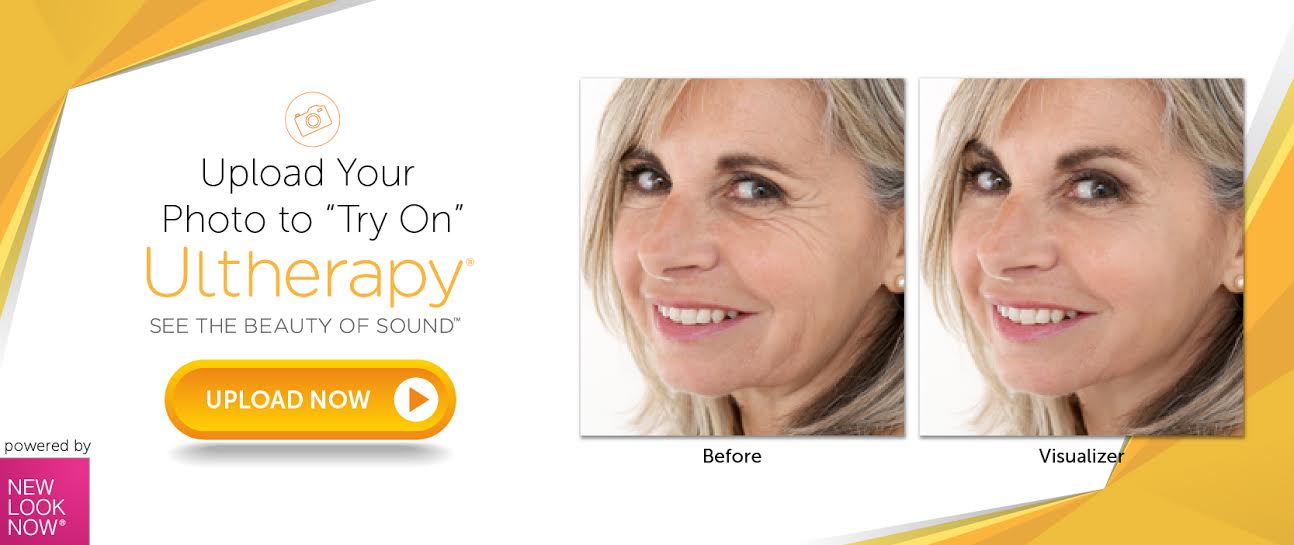 PUT ULTRASOUND ENERGY TIGHTENS SKIN
If you have noticed decreasing firmness in the condition of your facial skin, or have observed sagging skin around your eyes, neck or chin, you might be seeing some of the primary visible signs of facial aging. If you are unhappy with these aesthetic changes, but are not ready for an invasive procedure like a surgical face lift, Ultherapy treatment may be an excellent option.
During the Ultherapy treatment, ultrasound energy is deposited at pre-arranged depths underneath the skin, which heats up the excess tissue below the skin's surface, thereby encouraging the skin to naturally create new collagen. Ultherapy actually encourages the skin to create its own anti-aging proteins, from the inside out, without disturbing the surface of the skin.
Ultherapy is NOT cosmetic surgery, and it is the only non-invasive cosmetic skin treatment that uses ultrasound technology. By enabling the physician to see under the skin, Ultherapy allows pinpoint precision, depositing ultrasound energy only where it is required, without causing damage to the surface of the skin, while stimulating the structural support layers of the skin. It is FDA-approved and extremely safe, even for use on hard-to-reach areas of the face and neck.
THE ULTHERAPY PROCEDURE
Ultherapy is a simple, effective, in-office procedure that can generally be completed in one 60-90 minute visit. Ultherapy is applied through the use of an ultrasound wand placed gently on the target area, and does not require the use of anesthesia. Some patients may experience tingling and mild, temporary discomfort as the focused ultrasound energy is applied below the skin, but Dr. Q and the technicians at Dr. Q Plastic Surgery will work with you to ensure your comfort during the entire procedure. Most patients leave the office comfortable and excited about the results. Following your Ultherapy treatment, you may return to your normal activities immediately! Your skin may appear red and flushed after the procedure, but normal skin tone should reappear within a few hours.
LONG-TERM RESULTS
You may see and feel some skin rejuvenation results immediately after the procedure; however, the true Ultherapy results will become visible over the next two to three months, as your skin naturally begins to produce new collagen and rejuvenates itself. Some patients have reported continued rejuvenating results for up to six months after the procedure.
CONTACT DR. QUARDT AT DR. Q PLASTIC SURGERY
If you are interested in achieving the benefits of a face-lift, but are not ready for an invasive surgical procedure, Ultherapy treatment at Dr. Q Plastic Surgery may be an ideal option for you. Dr. Q is a Board-Certified plastic surgeon with broad experience implementing the latest surgical and non-surgical cosmetic procedures. She and the technicians at Dr. Q Plastic Surgery will work with you to understand your aesthetic goals and create a specific, tailored plan to achieve those goals. The warm, comfortable atmosphere at Dr. Q Plastic Surgery is the perfect place for you to improve your self confidence and rediscover your youth! If you would like additional information about Ultherapy treatment, please contact Dr. Q Plastic Surgery today. We look forward to speaking with you, and to scheduling your initial consultation with Dr. Q.
Ultherapy Featured on Dr OZ.